Vow of the Disciple Raid
Buy Vow of the Disciple boost and complete one of the most interesting and hardest Destiny 2 PvE activities and get a chance to find Collective Obligation Exotic Pulse Rifle, beautiful raid armor, and raid weapons. You also can complete this raid with our sherpas. Save your time buying this Witch Queen raid with our ultimate carry service for D2 with Overgear!
You can buy a Self-play + Coaching for Vow of the Disciple raid boost, and our pro player will show you everything in this raid and explain every encounter for every role!
Vow of the Disciple raid let players peak inside a pyramid located in the Throne World. Within, an ancient threat - Rhulk, DIsciple of Witness, awaits those brave enough to enter and challenge its supremacy.
Experience the mysteries of Savathûn's realm like never before with our Destiny 2 VotD Carry service. Our skilled team will guide you through the labyrinthine encounters and complex mechanics of the Vow of the Disciple raid, ensuring a smooth and rewarding experience. Whether you're after unique gear or looking to complete the toughest challenges, our service ensures you achieve your goals efficiently.
What you will get
Vow of the Disciple raid completed;

Chance to get

Collective Obligation Exotic Pulse Rifle;

Pinnacle Raid gear or Spoils of Conquest;

Raid weapons and Armor pieces;

All items and resources that might drop during this farm;

Experience boost for your Season Pass and Artifact.
Execution options
We complete 80% of VotD boosts in a few hours, but you might want to alter the order:

Normal

— available boosters will work on a first-come, first-served basis;

Express

— a separate and always free team, will complete the order 25% faster;

Super Express

— these boosters have a Day One experience and will get the job done 50% faster.

Are you buying Vow of the Disciple carry shortly before the Weekly reset? Consider picking the Express option. In case of delays, we will compensate with extras, and the next Vow of the Disciple raid carry order priority.
Additional options
Number of Guardians

- choose the number of guardians that are required to be boosted;

Flawless

- raid will be completed without a single death. Only for Piloted method

;

All secret chests

- all hidden chests with additional loot will be found during the raid;

Collective Obligation -

we will farm this raid exotic until it drops;

Weekly chest

- we will complete weekly chest quest, and you will get a resonance weapon if you didn't complete this chest before;

Stream

- choose this option if you want to see the progress of the boost online;

Challenges

- we will complete the current Weekly Challenge, or you can choose specific Raid Challenges, that will be completed when the raid is in weekly rotation.
Choose additional options and place an order;

We'll contact you in the live chat or via email;

Order completion will be started within 30 minutes or in the agreed time;

If you chose the

piloted

method, our booster will take your character (using VPN). In the case of the

self-play

option, you'll be simply invited to the booster fireteam;

We will complete your VotD carry and notify you about the completion or you'll see it by yourself;

Enjoy your completed VotD raid boost! And don't forget to rate our services on

Trustpilot

.
The Witch Queen expansion purchased.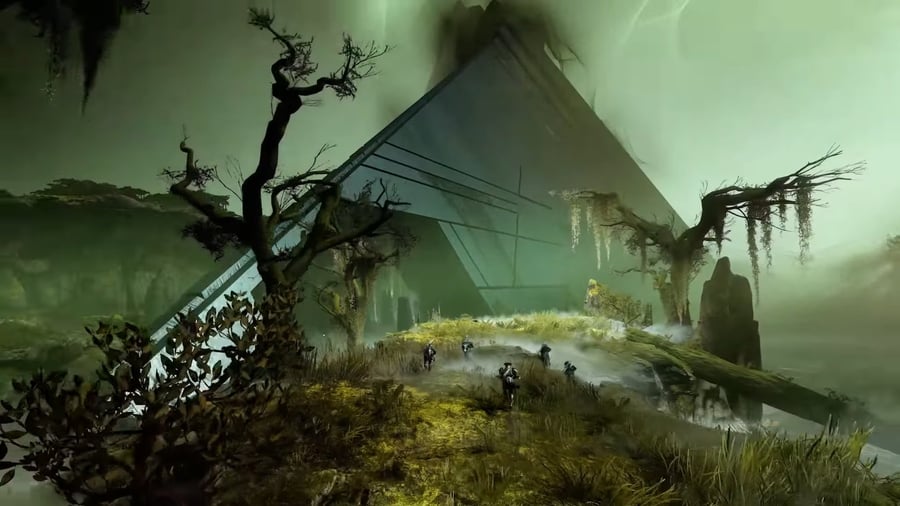 Destiny 2 Vow of the Disciple Sherpa
Experience the intricacies of raiding through with this raid option. Choose the Self-play + Coaching option, and our D2 Vow of the Disciple sherpa will personally explain every mechanic, puzzle, and boss fight in the raid. Elevate your gameplay and deepen your understanding of the raid with our Destiny 2 VotD sherpa run service.
Destiny 2 Vow of the Disciple Recovery
If you're pressed for time but don't want to miss out on the unique rewards, this option is your best bet. Simply opt for our piloted Vow of the Disciple recovery, and our highly skilled players will complete the raid on your behalf. With safety measures like VPN use, our D2 Vow of the Disciple recov ensures a secure and reliable Destiny 2 VotD recovery experience.
Safety warning
Consider that developers changed the security and in-game surveillance system recently. That could cause account suspension for some activities. We worked out instructions to avoid the risks involved. Make sure to follow them. Your managers and boosters will tell you what to do before and during the order execution <3
Destiny 2 vow of the disciple faq
What is the vow of the disciple?
Vow of the Disciple is the latest Destiny 2 Raid, which was released with the Witch Queen Expansion.
What do you get from vow of the disciple?
Vow of the Disciple has a chance to drop raid-unique Armor Set pieces and raid-themed Weapons with crafting. In this offer you can find the loot table, containing all raid drops from every encounter.
How long does it take to complete vow of the disciple?
The raid can be completed within an hour if you have a well experienced fireteam. Every player must know the mechanics for every encounter and have perfect team communication.
Throne worlds among the Hive gods are the places where they truly remain. Hive gods can only be truly destroyed while in their throne world. For instance, Oryx was defeated in the physical world - Dreadnought but only really finished when the guardians vanquished him in his throne world.