Overgear provides cheap WoW boosting of all types: character or PvP boosting, Raid or Dungeon carry, Powerleveling, farming & more to save your time. Buy WoW carry, book a slot in our live chat and enjoy your WoW boost! Online support will provide you with all the details about our WoW services 24/7.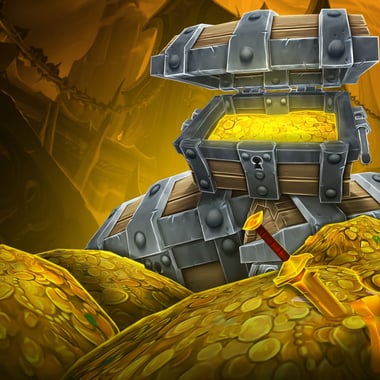 Buy WoW Gold, any amount of gold on Each Realm in Stock. Cheap WoW Gold with daily prices update. More than 100,000 positive reviews. Delivery time in most cases is less than 15 minutes, depending on Realm.
Need Help?🤝
Build your custom order
WoW Boosting FAQ
What are the most common problems of WoW players?
Not enough time to play and reach their goals;

Don't want to waste their time on an endless farm;

PvP rewards are difficult to get;

Don't have gear good enough or high RIO to get into Mythic+ dungeons;

Lack of experience in WoW for raiding and getting good gear;

Lack of Gold to buy something in the game;

Want to play their alts, but don't have enough time or motivation to gear them up;

Lack of interest in participating in guild events.
Noticed familiar problems? That why Overgear is here for – we solve your WoW issues!
Our services have changed the shape of the WoW boost market with one simple rule: we allow boosters to offer their services directly to customers, which caused the lowest prices on the market. We also provide our own World of Warcraft services that have the same price and have way more guarantees
To make the long story short, Overgear saves your time for the lowest price.
What to do if you think that some services cost too much? Well, you can always go to our Auction and place your request for the price you think is fair. Our partners will review your request and offer you the best possible price for a chosen WoW boost service. Once your request is published, you will be able to pick the best price among the offers.
What services can you buy on Overgear?
Raid boosting on any chosen difficulty;

Raid Gear with an option to add loot traders and increase the amount of loot;

Mythic+ carry for the highest rewards;

Mythic+ Score Boosting – easy-peasy, all the way up to +25 keys! With a high RIO score, you will be easily invited to any group;

PvP Carry for Arena or Battlegrounds. Want to reach 2200 or even 2400? Everything is possible;

PvP weekly great vault carry rewards;

PvP or PvE Coaching. Many of the best WoW players are working with Overgear;

Character Driving for the World quests, reputation, or even Renown levels boost;

Torghast Boosting and Mage Tower completion;

Leveling from any chosen level. Fast and efficient boosting;

Dragonriding full progress and customization options;

Professions leveling, including unlocking specialization talent trees and Knowledge Points farm;

Allied Races and their Heritage Armor unlockment;

You also can buy Gold for any purposes such as Mounts, AH, or even exotic things from the Black Market

Mount Farming. There are so many mounts in the game right now! Rare, expensive, or even TSG ones. The only question is – what do you really want?
As you can see, Overgear can provide WoW boosting for any chosen aspect of the game. But how will the process work once you decide to order something?
Depending on the service, you can choose either to play yourself or to share your account and entrust your character to an experienced player.
How our WoW carry service changed in Dragonflight
Every new WoW season and expansion is always an interesting challenge for us because we always try to maximize your convenience during World of Warcraft carry. In Dragonflght, we still can provide you guaranteed Mythic+ runs, successful raid completion, and Arena fights, but also we create some totally new offers for you:
Unique AFK self-play spot leveling, the fastest option to level your character in Dragon Isles zones from 10 level;

Dragonriding system progress, including customization and completion of Dragon Racing;

Profession progress, including talent unlocking and profession coaching, which will help you to learn all you need to know about the new profession systems and ways for gold making using it;

Profession optional reagents farm to provide you with an opportunity to offer high-rated items through the Crafting Orders system;

Trading Post currency obtaining and progress for this new system. You can get seasonal mounts and rewards after order completion;

Hourly Character Driving offer you can use to complete any open-world event.
Dragonflight Drop Item Levels
In the new WoW expansion, the game added various events which can help you gear up your character. Below you can find the list of activities, item levels of their rewards, and every Overgear WoW carry service you can order to gear your character to complete these activities:
| Source | Item Level | Overgear Offers |
| --- | --- | --- |
| Normal Dungeons | 346 | Mythic+ Dungeons Category |
| Heroic Dungeons | 359 | Mythic+ Dungeons Category |
| Mythic Dungeons | 372 | Mythic+ Dungeons Category |
| Mythic+ Dungeons | 372-415 | Mythic+ Dungeons Category |
| Vault of the Incarnates | 376-424 | Raids Category |
| Crafted Gear | 306-418 | Profession Category |
| Primal Storms | 359-385 | Hourly Character Driving Offer |
| PvP | 340-421 | PvP Category |
| Rares & World Events | 340-385 | Hourly Character Driving Offer |
| World Quests | 340-382 | Hourly Character Driving Offer |
| World Bosses | 389 | Hourly Character Driving Offer |
| Open World PvP | 408-421 | Bloody Tokens Offer/ Trophies of Strife Offer |


Why Overgear?
No bots! All of our boosting services are manual work;

No cheats! Nobody wants to get banned, not you, and neither our boosters;

Quick response;

Every step of boosting is transparent;

Your payment will be sent to a booster only upon your confirmation of the service completion, and when are totally fine with the results.
There is more!

WoW is a very big and old game that nowadays has too much content. You can dream about doing everything in warcraft but just try to imagine how much time should be spent on it. Our mission is to help you achieve your goals that can take so much time or too difficult to be done yourself without having enough time. Buy wow services and save only pleasant content for your in-game time, leaving all boring staff on us. We know how to make our clients happy with our wow carry services. We boost fast, for a low price and always with the best result.