Destiny 2 Touch of Malice Catalyst Boost
Buy Touch of Malice Catalyst and get it guaranteed! Catalyst will add the Rapid hit perk to your Touch of Malice. This weapon has an insane and almost uncontrollable recoil, and the catalyst perk will remove it completely. Our pro-players will obtain this catalyst and can masterwork it!
The Touch of Malice with Catalyst allows you to deal significant damage from the long range, which is essential for significant damage in many raid and dungeon encounters.
WHAT YOU WILL GET
Touch of Malice Catalyst - obtained;

Totems, Warpriest, and Golgoroth encounter - completed with raid drop;

Chance to obtain legendary weapons and gear;

All items and resources that drop during this farm;

Experience for your Season Pass and Artifact.
EXECUTION OPTIONS
We complete 80% of Destiny 2 Touch of Malice Catalyst Carry in a few hours, but you might want to modify the order:

Normal

— available boosters will work on a first-come, first-served basis in Raid Boost;

Express

— a separate and always free team that will complete the order 25% faster.

Are you buying shortly before the Weekly reset? Consider picking the Express option. In case of delays, we will compensate with extras and the next boost order priority.
ADDITIONAL OPTIONS
Touch of Malice

- we will farm this raid exotic for you, so you will be able to get catalyst;

Catalyst Masterwork —

we will complete your Touch of Malice Catalyst Masterwork requirements, so its buff will start working;

Full raid completion

- we will complete the entire raid for extra loot;

Stream

 — we will stream all the farming processes for you.
Select preferred options and place an order;

We will contact you via our live chat or by sending an email;

All the details about the Touch of Malice Catalyst boost will be discussed beforehand and the start time will be set according to your schedule;

We'll find you a team of experienced boosters who fits your schedule the best;

For your convenience, we will create a Discord chat where you can communicate with your manager and track order progress;

At the appointed time, our professional player will take your character and start completing the Touch of Malice Catalyst boosting;

We'll notify you about the service completion;

Enjoy the Touch of Malice catalyst boost! And don't forget to rate our services on

Trustpilot

.
You need to own Touch of Malice on your Destiny 2 account. If you don't have it, please select Touch of Malice in the options.
FEATURES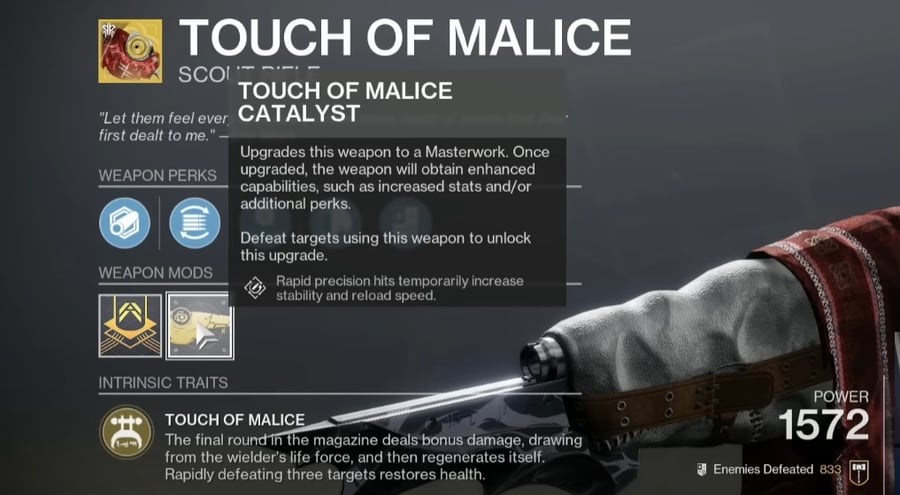 Destiny 2 Touch of Malice Catalyst FAQ
How to get Touch of Malice Catalyst?
To unlock catalyst players need to slam the orbs in Oryx's Basketball Court in a secret room after Golgoroth encounter.
What does the Touch of Malice Catalyst do?
This catalyst gives the Touch of Malice a new perk – Rapid Hit – rapid precision hits temporarily increase stability and reload speed.
How many kills do I need for the Touch of Malice Catalyst masterwork?
You need to kill 500 enemies to complete it, it won't be easy. Buy Touch of Malice Catalyst Carry Service and we'll do everything for you!
Safety Warning
Please note that recently developers changed their security and in-game surveillance system and could issue account suspension Touch of Malice Catalyst Boosting. We cannot affect their actions in any possible way. So we take every precaution available to avoid the risks that are involved. Make sure to follow all instructions of our managers and boosters before and during your order.