Gjallarhorn Boost
Buy Gjallarhorn Exotic Rocket Launcher from the new challenging Grasp of Avarice dungeon quest. The legendary Gjallarhorn is the most overpowered exotic in Destiny 2. This solar damage rocket launcher has tracking warheads that each function separately and massive damage.
All the Destiny veterans, exult! And even if you are a new player, you're going to love this weapon, we guarantee. Buy D2 Gjallarhorn and get it as soon as possible!
What you will get
Gjallarhorn Exotic Rocket Launcher

- guaranteed;

Grasp of Avarice dungeon - completed;

All items and resources that might drop during this farm;

Experience for your Season Pass and Artifact.
Gjallarhorn Exotic Rocket Launcher catalyst

- we'll obtain catalyst for you;

Catalyst farm - we'll farm catalyst and complete it fast.
How works our gjallarhorn boosting service
Choose additional options and place an order;

We'll contact you in the live chat or via email;

Order completion will be started within 30 minutes or in the agreed time;

if you chose the

piloted

method, our booster will take your character (using VPN). In the case of the

self-play

option, you'll be simply invited to the booster fireteam;

We will complete your order and notify you about Destiny 2 Gjallarhorn carry service completion or you'll see it by yourself;

Enjoy your new overpowered rocket launcher! And don't forget to rate our services on

Trustpilot

.
Requirements for acquiring gjallarhorn
Destiny 2 account with

Bungie's 30th Anniversary pack purchased.

1310+ base light.
Please note that recently developers changed their security and in-game surveillance system and could issue account suspension for some activities. We cannot affect their actions in any possible way. So we take every precaution available to avoid the risks that are involved. Make sure to follow all instructions of our managers and boosters before and during your order.
Is gjallarhorn good in destiny 2?
Of course, it is! it has a wonderful perk Wolfpack Rounds that let you become #1 in DPS charts! Many of LFG's posts on the original destiny contains the phrase "Gjallarhorn Req." If players join this fireteam without the Gjallarhorn they would be kicked. Gjallarhorn's special perk is "Wolfpack Rounds". This perk let rockets fired from this weapon split into tracking missiles. This can eliminate high-level enemies and bosses in a blink of an eye, or take out large groups of common enemies.
How to get gjallarhorn in destiny 2
The Gjallarhorn could be obtained through a quest from Xûr - "And Out Fly the Wolves." Let's explain it step by step:
Complete new 6 player activity - Dares of Eternity;

Go to Xur Treasure hoard on the new Eternity Destination;

Acquire the And Out Fly the Wolves quest;

Visit the Shaw Han vendor on the Cosmodrome;

Complete Grasp of Avarice dungeon;

Go back to Shaw Han;

Grind Powerful fallen kills on the Cosmodrome;

Return to Shaw Han;

Visit Banshee-44 in the Tower;

Complete Exodus Garden 2A Lost Sector and loot the boss chest;

Return to Shaw Han again and assemble Gjallarhorn;

Go to Shaw Han and receive your new Gjallarhorn.
And some interesting fact about this beloved by community and developers weapon - Gjallarhorn's designer added a wolf onto the weapon for each day he spent working on it. A total of 16 wolves thus far can be seen in the various images of the weapon. Buy Gjallarhorn and kill every boss easily.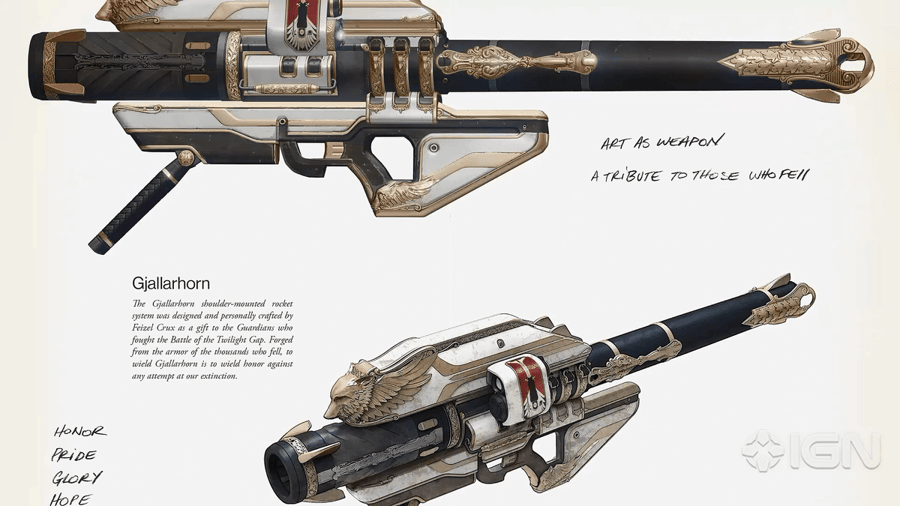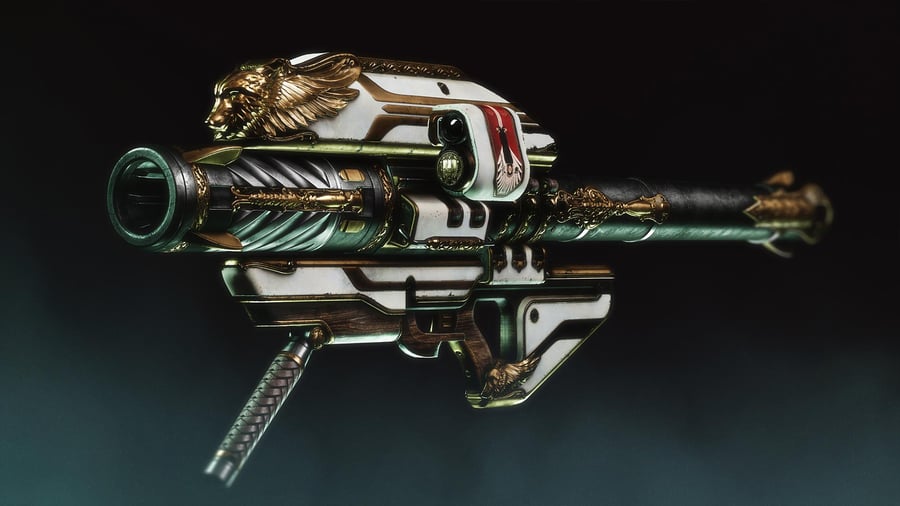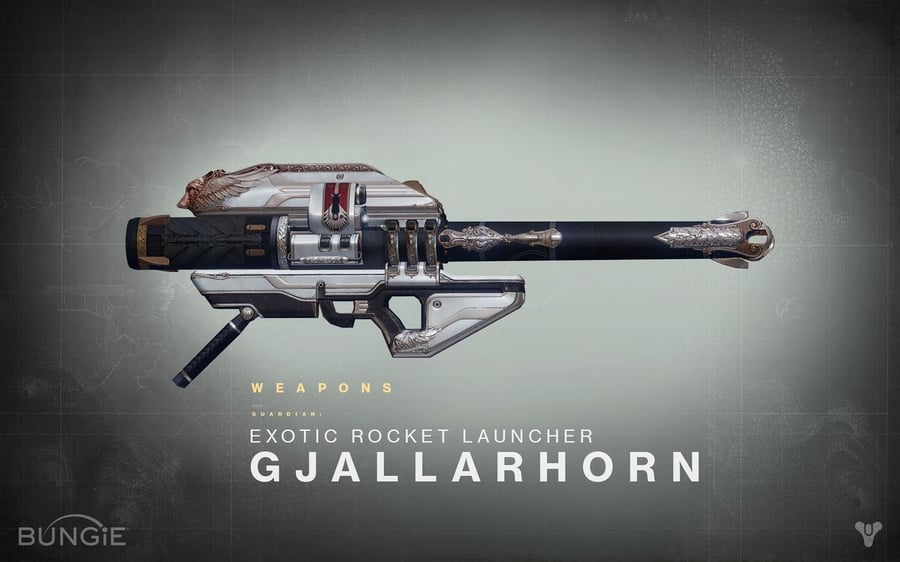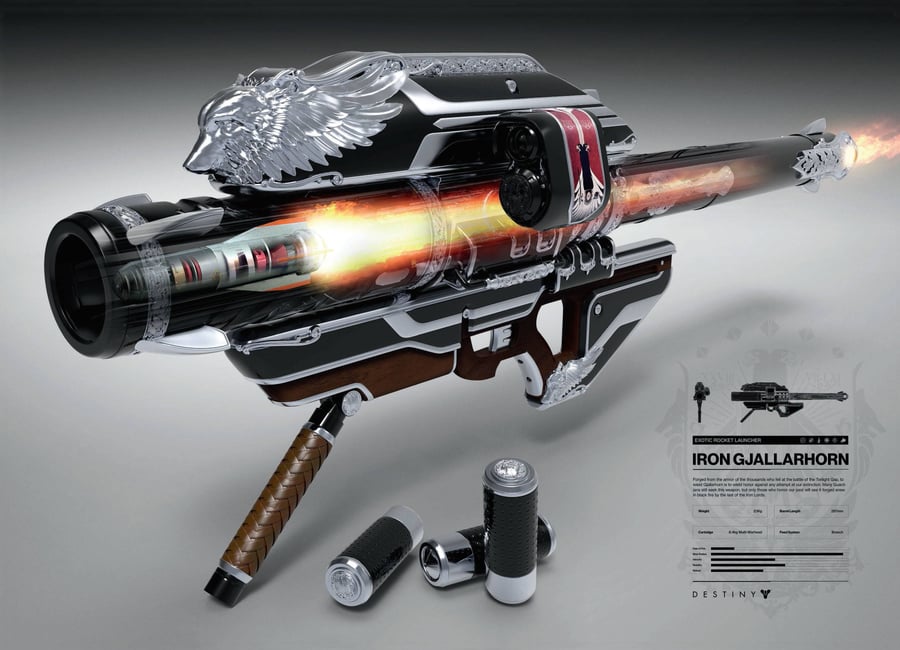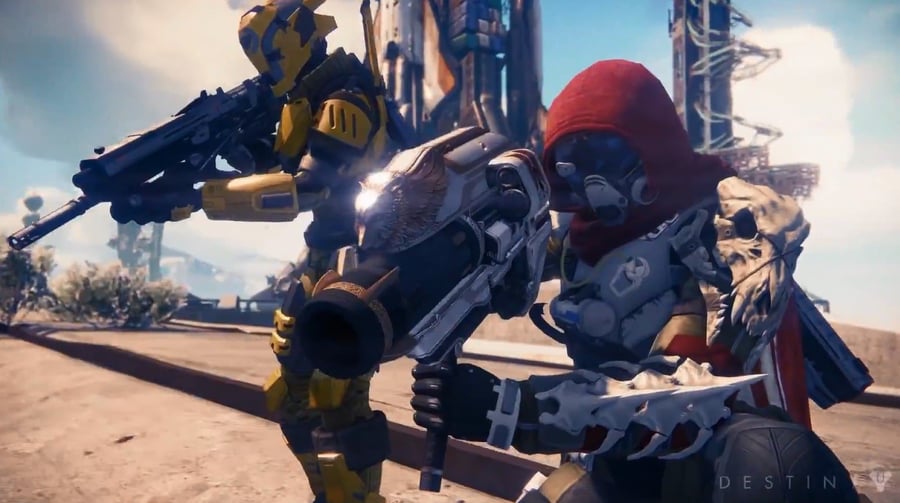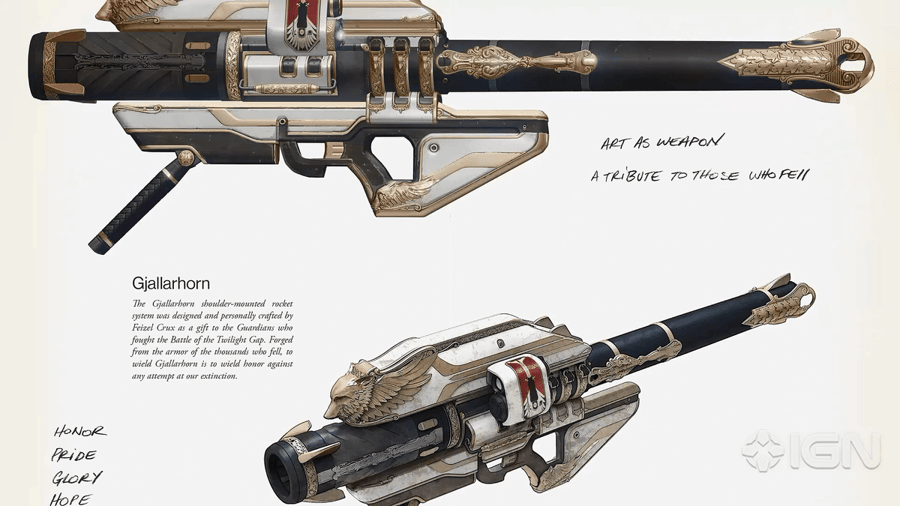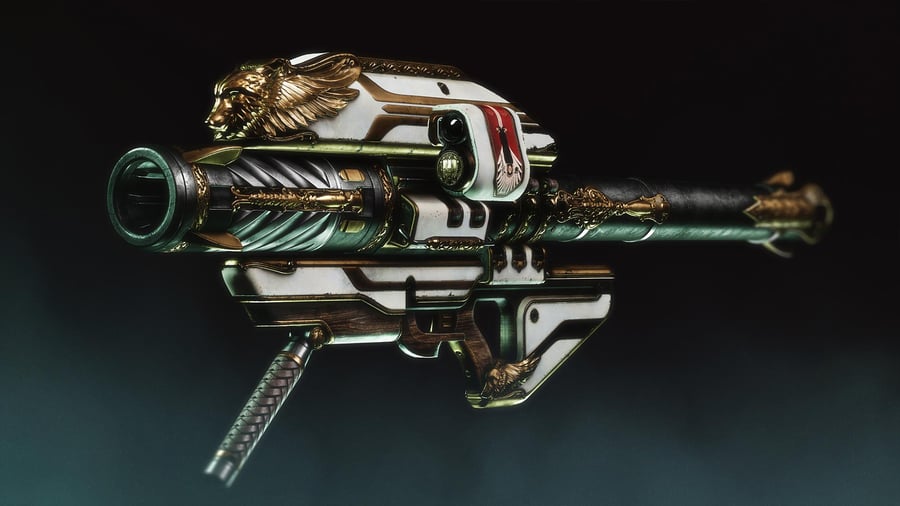 Destiny 2 gjallarhorn carry faq
How do i get the gjallarhorn in destiny 2?
First of all, you must own Bungie 30th Anniversary Pack to be able to get the exotic. Then, travel to Eternity, talk to Xur and take the And Out Fly The Wolves" Exotic quest off him. The quest will eventually lead you to the Grasp of Avarice dungeon, but you do need to speak with some NPCs first to progress the quest.
Once you're done with the dungeon, there will be a lot of running around and talking with various characters, with some generic enemy grind sprinkled inbetween. The quest is a bit tedious, but pretty easy to complete as long as you follow each step accordingly. And since you're getting one of the best and most renown rocket launchers by the end of it, we'd argue its a pretty fair deal!
How do you get the gjallarhorn catalyst?
Getting Gjallarhorn catalyst involves going back to the Grasp of Avarice dungeon, though you must already own Gjallarhorn before attempting to get the catalyst: the required triggers simply won't appear in the dungeon prior to that.
The challenge to get the Gjallarhorn catalyst revolves around the Burden of Riches debuff, one of the dungeon's key features. There will be three loot chests hidden throughout the dungeon, which you have to open while under the debuff. This means, you must already know where each of the chests are, as well as the most optimal way towards them, since you'd have only 30 seconds to reach each chest. Even when you already know what to do, the timing is rather tight.
The catalyst will wait for you in the third chest. However, each player has to open their chests separately, even when playing in a group. And you'd still have to grind some kills before being able to use it. Buy Destiny 2 Gjallarhorn exotic rocket launcher carry and leave our boosters all the trouble of getting and unlocking this powerful catalyst!
Is gjallarhorn worth using in destiny 2?
While any kind of gear will always come down to the personal preference of every player, Gjallarhorn is generally still considered to be the top tier rocket launcher. It's great at taking down bosses, can mow down large groups of enemies — especially with the catalyst equipped — and can be very effective against other guardians in the Crucible.
With its new exotic perk, which boosts the damage of all the non-legendary rocket laucnhers in your group, having at least one Gjallarhorn in a team is very useful in farming dungeons and raids. It's not the most powerful heavy weapon in the game, but it is extremely versatile — there's never a situation where Gjallarhorn wouldn't be a good answer!
Can you get gjallarhorn in destiny 2 for free?
Sadly, no. Gjallarhorn is still available in the game, but you'd have to buy the Bungie 30th Anniversary Pack if you want to get it. Without the pack, you simply won't be able to access the mission containing this exotic rocket launcher.
Is gjallarhorn an exotic?
It sure is! And to prove it, Gjallarhorn has some pretty amazing exotic perks to go with it! Familiar to Destiny veterans, Wolfpack Rounds enables each round you shoot to split into several tracking cluster missiles upon detonation, making quick work of any large groups of enemies, as well as dealing massive damage to the bosses.
But that's not it, as Gjallarhorn got another perk in Destiny 2 — Pack Hunter. This one increases the rocket launcher's handling and reload speed when near allies, as well as providing nearby allies with non-exotic rocket launchers with some spare Wolfpack Rounds. In simpler terms, you and your team will be able to dish out even more damage by shooting the enemies with your rocket launchers at the same time and close to each other — perfect for burst damage.
Does gjallarhorn have tracking rockets?
Yes, though, with a small caveat. The initial round you shoot isn't tracking enemies: it simply shoots straight where you aimed it at. However, once the round explodes, several missiles fly out of the explosion and those do track nearby enemies. The tracking missiles, also known as Wolfpack Rounds, work both in PvE and PvP, though their tracking effectiveness is a bit lower against fellow players.
Is the gjallarhorn catalyst worth it?
We'd argue that it really does.What is basically does is giving your Wolfpack Rounds their own Wolfpack Rounds when they kill an enemy. These additional missiles are actually faster and deadlier than the original ones too! Granted, the catalyst won't be much of a help against bosses, since the initial targets have to be killed for the effect to trigger. However, when you need to dispose of the large group of enemies at once, it's hard to think of a better option!
Can you get the gjallarhorn solo?
You can! It's actually possible to solo Grasp of Avarice. However, the task is extremely challenging. Not only is the dungeon filled with all kinds of deathtraps that will surely take the unprepared player by surprise, but the dungeon also features a unique mechanic that can easily kill underpowered guardian.
Basically, picking up unique engrams in this dungeon gives you 30 seconds to pick up another similar engram or cleanse yourself near special crystals, otherwise you'd die. So, we can't recommend soloing this dungeon to anyone who isn't already well-acquainted with it.
Safety warning
Consider that developers changed the security and in-game surveillance system recently. That could cause account suspension for some activities. We worked out instructions to avoid the risks involved. Make sure to follow them. Your managers and boosters will tell you what to do before and during the order execution <3