Hello, folks! I'm sure many of you share my love for meat. And although now it's the season of fresh fruits and vegetables, I can't help but please myself with a steak. Or two.
Today I want to show you my version of Tender Shoveltusk steak, taken from the World of Warcraft, The Official Cookbook.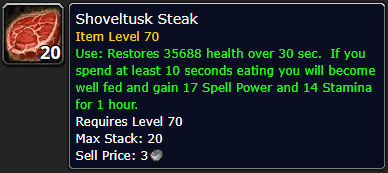 Ingredients:
2 steaks, a pound each. If you don't rush, wrap the meat into a cotton cloth, place on a grid so that the air would have access to meat from all sides, and put everything into a fridge for 3-4 days. Change the cloth daily and let the meat be of a room temperature by the time of cooking;
1 tbsp of olive oil;
50 g of butter;
1 tbsp of salt;
1 tsp of northern spices;
1 clove of garlic. Crushed;
1-2 cloves of garlic. Whole;
1 glass of red dry wine ~ 230 ml;
Northern spices:
1 tbsp. of cardamom (without shells);
1 tbsp. of juniper;
1 tsp of smoked salt;
1/2 tsp of black pepper;
1/2 tsp of ground ginger;
1/4 tsp of nutmeg. Just take on the tip of the knife.
Heat all the spices a little in a dry frying pan and mix them in a combiner. Store in a tightly closed jar in a dark place.
NB: You should have more of northern spices than you need. 1 tsp is enough. Save the rest for the future.
Cooking:
Prepare the meat for the cooking, but do not wash it, as the surface must be dry;
Mix salt, northern spices and chopped garlic. Rub the meat with this mixture from all sides;
Preheat the frying pan with olive oil and butter. I use a large cast-iron frying pan with a grill for that purposes;
Gently place the steaks in a pan and cook for 2.5 minutes. Turn over and cook for another 2.5 minutes;
At this point, I add a couple of crushed garlic cloves and, using a long teaspoon, pour the oil over the steaks. You can pour it all the way while the meat is being cooked. This is quite a pleasant and meditative activity.
My steaks were thick enough, so I took the tongs and cooked for another minute from all sides. All this time we cook on high fire;
Now gently pour the wine — it should start hissing and expressing its displeasure. Cook for 2-3 minutes to get medium-rare. Then you can either remove the meat, put it a warm plate, cover it with foil and let it rest for 10 minutes, or cook 3-5 minutes more till your favorite degree of readiness, turning one or two times;
Reduce the heat to medium and boil the liquid to the state of the sauce. Cook for 6-10 minutes, stirring occasionally. I usually add a small piece of butter to this sauce;
This steak goes well with grilled vegetable or sauteed carrots, about which I have already written.
Technical issues and replacements:
No recommendations for meat, as everyone benefits from their preferences. Any piece of beef, from which you can prepare a steak, would do.
I have a large cast-iron frying pan. It can hold up to two pieces of meat freely. It is important to cook on a high fire. If the temperature drops, the meat will no longer be roasted, but stewed;
I have already written about smoked salt in the recipe of Forest Strider Drumstick. Please, read it or just replace the smoked salt with sea salt.
Conclusion
What can I say? — A large and juicy rare steak! I didn't even do any garnish, only added my favorite green peas. Only meat and a cup of cold beer as I love.