New Shadowlands Weekly Chest
Developers continue to amaze the community with new technical decisions, in-game mechanics, and various changes, which suppose to improve the in-game experience in the upcoming expansion. One of such improvements is a new weekly cache reward system that will replace the current one once Shadowlands releases. The main purpose of such innovation is to reduce the dissatisfaction among players by giving them the possibility to choose rewards instead of dealing with cold and prudent RNG technology, due to which players can easily get one and the same item for weeks.
The Great Vault is the Shadowlands equivalent of the Mythic+ Weekly Cache on Battle for Azeroth, but now players are able to choose from the content rewards (Raids, Mythic +, and PvP) as well as from specific items inside these categories.
Right now, in BfA, the Weekly Mythic+ Cache rewards players with a random piece of Dungeon loot for their class/spec, the item level of which is based on the highest level M+ dungeon that they completed for the week with +15 being the maximum possible item level. What's more, the only chance to get this cache is to complete a Mythic+ dungeon the previous week.
In Shadowlands, The Great Vault will work similarly, but it will allow you to receive a reward for completing a Mythic+ dungeon, a Raid, or for participating in PvP activities. The more challenges you conquer, the greater choice of items you have.
You will only get one item no matter how many objectives you have completed. One out of nine, if you have done everything. The more choices you want to have, the more challenges you have to complete. But no matter how many challenges you conquer, you will still have only ONE reward.
Note: None of the details concerning this new system were announced officially yet, meaning this subject is still under discussion and anything may change.
Great Vault UI
Below you may see the interface of a new reward system. There are three types of activities, and each has three objectives to complete. By completing any of the activities, the corresponding box will have a blue shiny sphere on it. All of the available boxes will open after the scheduled maintenance.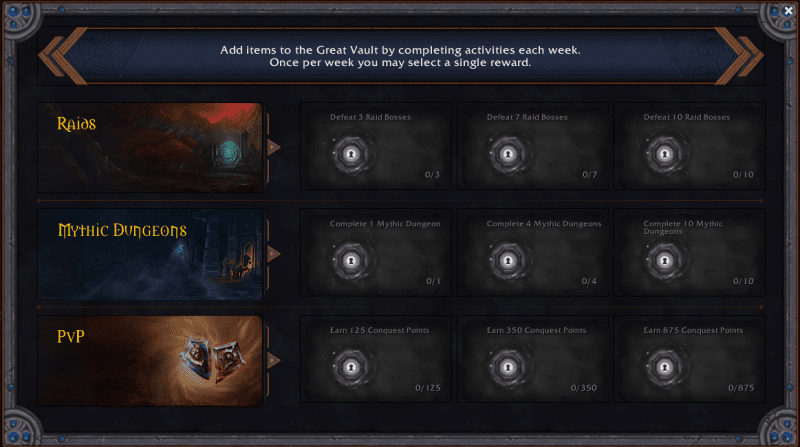 Great Vault Rewards
According to recent information from PTR servers, the rewards of each of the boxes will correlate to the concrete activity; Raid Loot from a certain Raid on a certain difficulty (for example, you cannot receive a Heroic item after finishing the instance on Normal difficulty), Dungeon Loot from completed Dungeons, and PvP Loot from PvP fights. After each objective is completed, mouse over the objective location on the Great Vault UI to get more details about what item level loot will become a reward on the Weekly Reset for that slot. The item level of rewards also depends on the completed challenges.
As long, as Blizzard informed the community about the decreasing amount of loot coming in Shadowlands, completing the Great Vault challenges gives players up to three extra chances at those elusive items that just won't drop in a Raid or Dungeon so easily. But remember, the Great Vault only offers additional options, while players will have to make a decision. All the more such choices are much better than not having them at all.
Even if there will be only needless things, players will still have an option to chose an important currency instead.
Great Vault Requirements
And here comes the most important, and somewhat difficult part – the requirements, players are to fulfill in order to open the boxes.
| | | |
| --- | --- | --- |
| Raids | Mythic+ Dungeons | PvP |
| Defeat 3 Raid Bosses | Complete 1 Mythic Dungeon | Earn 125 Conquest Points |
| Defeat 7 Raid Bosses | Complete 4 Mythic Dungeons | Earn 350 Conquest Points |
| Defeat 10 Raid Bosses | Complete 10 Mythic Dungeons | Earn 875 Conquest Points |
Not all information has been announced yet, unfortunately, and things may still change, but below you may find some important information.
Raid Objectives
The quality and item level of the loot is currently determined by the highest difficulty where players completed each of the needed requirements. If they cleared 10/10 Normal but only 7/10 Heroic, the first two pieces will be of Heroic quality and the last option – of Normal quality.
Mythic+ Objectives
The first tab (Complete 1 Mythic Dungeon) is determined by the highest Mythic Dungeon completed that week.
The second tab (Complete 4 Mythic Dungeons) objective is determined by the lowest level of your top 4 runs, which means the reward is determined by the level of your 4th highest key for the week. For instance, you have completed Mythics +15, +15, +12, +10, so the lowest level of your top 4 runs is +10. This means your second objective currently gives you a Mythic +10 choice. Note, however, that if you want to upgrade your choice of loot, you need to complete +11 Keystones at least, or even higher. Luckily, there is no need to keep in mind all the Keystones, you have completed – the corresponding tab lets you know exactly what you need to do to improve your reward choice in this slot.
You are to complete 10 Mythic Dungeons in order to open the third tab. If you managed to do so, you would get three items offered in your Great Vault. The structure of the calculations is the same. Let us take an example. Imagine, you have conquered and successfully finished fifteen M+ Dungeons of the following Keystones:
+15, +15, +15, +14, +14, +13, +13, +10, +10, +10, +10, +10, +8, +6, +6.
The bold figures in a row above show the keystones that become a determinative. And so we've got:
Your first reward will be a Mythic Level 15 reward (Highest Key).

Your second reward will be a Mythic Level 14 reward (4th Highest Key).

Your third reward will be a Mythic Level 10 reward (10th Highest Key).
PvP Objectives
Unfortunately, there isn't any concrete information about the PvP objectives and rewards yet, but they should have the same or, at least, similar structure as Raid and Mythic + tabs, described above.
On the whole, the new system looks much more fair and attractive to players, as now every aspect of the game may bring additional rewards to those who are interested in them. Isn't it great?
Don't waste your time in pug keys! Do it with PRO. Mythic +15 runs every day.