WoW Gladiator Title DF Season 1 Boost
Buy Gladiator Title and get the hardest-to-achieve PvP title. Our professional players provide you with 2400+ Rating and the required 50+ Wins above 2400 to add the rarest Dragonriding skin in the whole WoW Dragonflight to your collection. Order a WoW PvP carry and get into the TOP 0.5% of WoW players having the title!
Order a WoW PvP carry and get into the TOP 0.5% of WoW players having the title! For your confidence, there is a special treatment, that helps our players guarantee you successful order completion:
Our boosters have over 10 years of PvP experience and play every season at 2700+ exp level;

We organize a team especially for your character, to get the best possible class setup to achieve maximum chemistry for the regular wins;

Our teams know the most profitable time slots for Arena fights, where more people are involved in matchmaking and the average winrate of the team will be higher;

If your character has the wrong talents or doesn't have high-rated PvP gear, our boosters take care of it.
In addition to the Gladiator mount, you will get the best PvP gear, and also we'll farm the Vicious Saddle for you for free to get another seasonal mount in your collection as a bonus. This is the really best way to complete all major PvP objectives of Dragonflight Season 1 at once.
If you want to get the Gladiator title with the Self-play option, just contact us via live chat and discuss this question with our managers. Our boosters will assess your skill level during testing Arena fights, and after that, we will try to find the best way for you.
Note: Dragonflight expansion will be released on November, 28/29, and Season 1 starts on December, 12/13. In the first weeks of the season, gearing won't be possible because of the Conquest points cap, so our players start order execution once they get an option to equip character with suitable PvP items.
WHAT YOU WILL GET
BONUS OPTIONS
Vicious Saddle

- our players will continue Arena farm until you get another seasonal PvP mount.
ADDITIONAL OPTIONS
Stream

- watch live how our player keeps arena fights as your character during the whole boost. Also, you can request a stream record to watch the process any time you want.
The active subscription on your WoW account.
We form a priority list based on the execution speed and time when the order was placed;

We will contact you in the live chat or via email. Ask any questions;

We will make a schedule to play Arena in the most profitable time slots;

The booster will pilot your character at the appointed time every day until the required rating and number of wins above will be received;

We exercise discretion and guarantee your privacy - none of your friends will ever know you've purchased the boost;

We will notify you about Gladiator Title boost completion;

Enjoy the results! And do not forget to rate us on

Trustpilot

.
FEATURES
Gladiator Title - top 0.5% title in World of Warcraft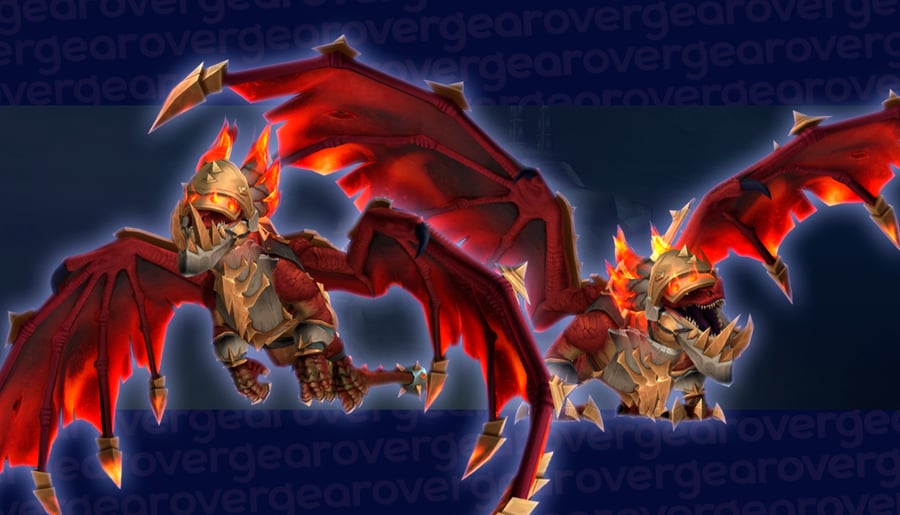 WoW Gladiator Title DF Season 1 Boost FAQ
How do you get the Gladiator title in Dragonflight?
Like Gladiator title in previous expansions, you should reach 2400 Arena rating and get 50 wins above this point. Every time you lose your rating, you should go up to 2400 again to farm the remaining number of wins.
Is Gladiator hard to get in Dragonflight?
It is considered to be one of the most difficult titles to unlock in the game. It requires maximum PvP efficiency from you and your teammates. Also, you should know perfectly all possible setups of enemy teams and be prepared for each of them.
Can you get Gladiator in 2s in Dragonflight?
No, this challenge implies only 3-player teams. But don't worry, we always have boosters ready for order completion in every possible setup.
What rating is Gladiator in WoW?
You have to reach 2400+ rating to earn the Gladiator title and win 50 fights above.
Do you lose Gladiator title?
Once you obtain the title it becomes your permanently and you won't lose it. At the same time, every WoW Season has its own Gladiator title challenge.
Can you get banned for Gladiator Title boost?
To decrease the chances of getting banned, our players used specific soft, VPNs, and don't push Arena wins too fast, so that no one feels, that your character is playing by another person. Also, if you don't want to risk your main character, you can buy Gladiator Account from Overgear to get a fresh character with a coveted title and mount. In that case, we'll create a fresh account with personal data identical to your account, and after can transfer a character with the Gladiator title or share with you the new account itself.