FFXIV Pandaemonium Savage Full Raid Run
Savage raid rewards generously with the best gear in the game, unique mounts and minions. But it comes with a price of enormous difficulty. It can take months to master it even with an experienced team. Buy Abyssos boost, save time, and get all your class gear in one run!
Pandaemonium has two sections: Asphodelos (P1S–P4S) and Abyssos (P5S–P8S). Abyssos was released in patch 6.2 and is the latest raiding content available.
Note: Be advised that due to the World Race, basic completion time can be increased up to 10 days. By choosing express options you can get a chance of decreasing completion time.
WHAT YOU WILL GET
Pandaemonium : 

Abyssos (Savage) or Asphodelos (Savage) full run

;

P5S–P8S — Abyssos —

 

630/635 ilvl loot

,

 Sunforged mount

, and Wind-up Ericthonios minion;

P1S–P4S — Asphodelos — 600/605 ilvl loot, 

Demi-Phoinix mount

, Nosferatu minion;

Each stage

Abyssos or Asphodelos Mythos token

to exchange for gear;

Allagan Tomestones of Astronomy and Causality;

Achievement for the chosen section completion.
EXECUTION OPTIONS
Normal

 — complete in 2 days on a first-come, first-served basis;

Express

 — complete in 1 day with a separate team, only for PC;

Super Express

 — сomplete in 2 hours (PC) or 6 hours (PS), starting in just 10 min! Performed by a team that finished endgame content among the first. A free stream included. Please, check World Race note before choosing this option.
ADDITIONAL OPTIONS
Unlock Savage

— we will complete Abyssos on normal to get access to the Savage mode;

Pentamelded gear —

we will craft 610 ilvl Pentamelded gear for your character;

P5S-P8S next week full run (10% off)

— we will complete a run after the weekly reset;

Stream —

monitor the progress of the Abyssos boost on a personal stream.
Level 90 job;

Your job is geared in 610 ilvl gear at least;

You have completed the ordered raid section on Normal difficulty.
All the details will be discussed beforehand in the live chat or by email;

We'll find you an experienced team that fits your schedule the best;

We will create a Discord chat for you to communicate with the booster and track the progress;

At the appointed time, our professional player will take your character and drive it through the desired raid on savage difficulty;

We'll inform you about the FFXIV Pandaemonium boost

completion;

Enjoy the results! And don't forget to rate our services on

Trustpilot

.
FEATURES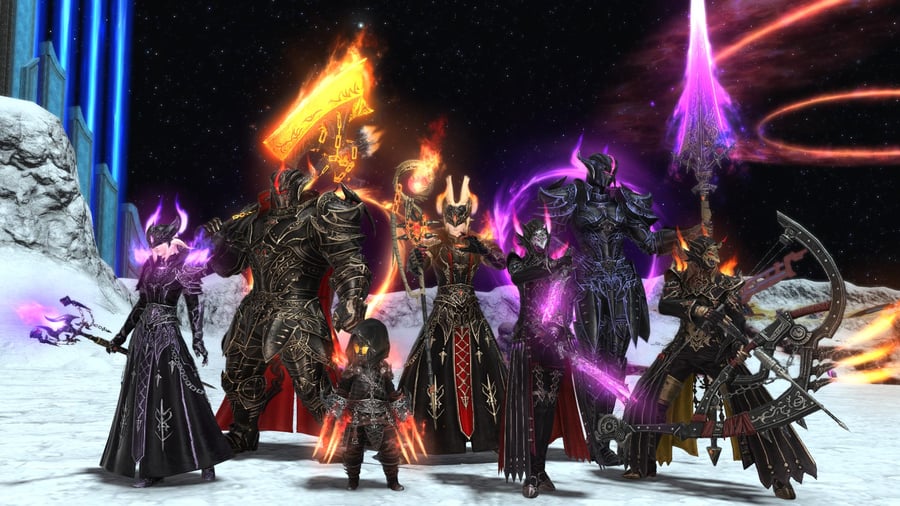 FFXIV Pandaemonium Savage Raid FAQ
Where do you unlock Pandaemonium raid?
Firstly, you need to complete the entire Endwalker storyline. Once the main story is finished, you can unlock The Pandaemonium by speaking to a Lalafell named Nemjiji in Old Sharlayan (x10,y12). She provides a particular quest called "The Crystal from Beyond". This level 90 quest grants access to the questline for Asphodelos. After completing this questline, you will get Pandaemonium unlocked.
How do I unlock Pandaemonium Savage raid?
FFXIV Asphodelos, part of the Pandaemonium Savage raid, can be unlocked through a questline. You need to get to Nemjiji and talk to him so that you would get "The Crystal from Beyond" quest, and after completing it, you will receive permission to get a savage version of this raid. This NPC is located in the Labyrinthos.
What is Pandemonium FFXIV?
Pandaemonium is the level 90, 8-player raid of Endwalker. It consists of different wings that are separated into four different circles. In these circles, you'll face powerful foes, which can be a real pain to deal with. You'll need excellent group coordination to beat these raids.
What iLvl is Pandemonium Savage?
You can break up the first four circles to know a specific iLvl you will need:
Asphodelos: The First Circle: Average Item Level 570;

Asphodelos: The Second Circle: Average Item Level 575;

Asphodelos: The Third Circle: Average Item Level 580;

Asphodelos: The Fourth Circle: Average Item Level 580.
With these stats on you, there will be no problem boosting yourself through P1S-P4S
How many raids are in Pandaemonium?
The Pandaemonium raid contains 12 complete raids in total, which are split into three chapters. For now, only Asphodelos, the first one, is available. The second section will be unlocked between August and September of 2022, so you can carry your raid there too!
How does Savage loot work FFXIV?
It works a little bit differently than your average raid drops. First of all, each raid run can get you some coffers drops, which you can use on the desired job to get the exact gear for the precise character. Also, you get Asphodelos Mythos per clear. With this token, you can buy other equipment to level up your average gear score, even if you are unlucky with the drops. If all of this sounds too complicated, consider purchasing our FFXIV Asphodelos boost so that you can skip all the gear grind!