PoE Challenges
Every League offers unique cosmetic rewards for completing challenges. It's really hard to achieve 40 of them by yourself and get all cosmetic effects and Hideout decorations. But we are ready 24/7 to complete them all for you!
YOU'LL GET
All unique cosmetic rewards of the Scourge League:
12x challenges — Scourge weapon skin;

24x challenges — Scourge Wings;

36x challenges — Scourge Pet;

40x challenges — Scourge Challenger Trophy for your Hideout!
You can order any number of challenges you need or choose a specific one.
Don't forget, that you have only one chance to get these cosmetic effects during the League!
HOW IT WORKS
place an order;

we'll contact you in the live chat or by email. All details would be clarified with you and the start time of the order would be confirmed;

Discord chat will be created so that you could track the progress of your order;

we'll find you a booster who fits in your schedule the best;

enjoy the results! And don't forget to rate our services on Overgear and Trustpilot.
START TIME
The start time is just 1 hour in case of stable servers.
FEATURES
Desired amount of Scourge challenges completed
All the Challenge Trophies, Skins and Visual Effects
Booster will recieve the money only after you will complete the order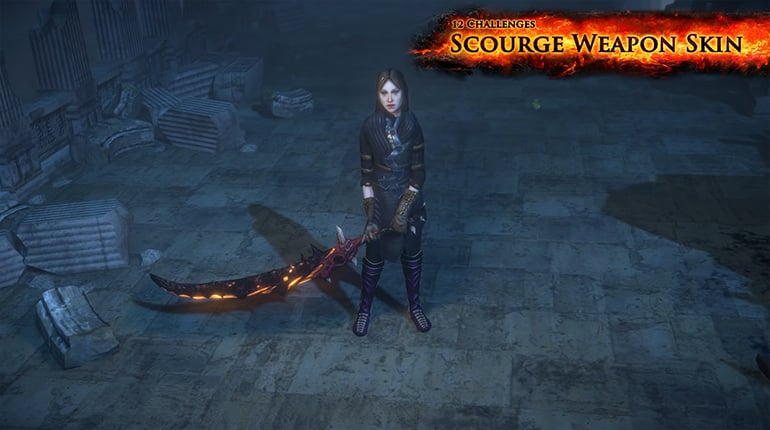 Path of Exile Challenges FAQ
What are PoE Challenges?
There is a Challenge system in PoE and it's not the same as Achievement. Completing challenges gives you Cosmetic Rewards — unique transmogs which you can obtain ONLY in the current League. You have about 3 months to complete all 40 challenges and get all rewards. Some of the challenges are incredibly hard to complete and could take a lot of your time. But don't be afraid, Overgear offers the best boost service for PoE Challenges, so you will easily get all Rewards that you want!
What do you get for completing Challenges PoE?
There are several breakpoints for the Challenge reward system:
The reward for 12 Challenges is Scourge footprints;

The reward for 24 Challenges is Scourge Weapon Effect;

The reward for 36 Challenges is Scourge Portal;

The reward for 40 Challenges is Scourge Challenger Trophy for your Hideout.
We recommend use at least 36 Challenges boost, so you will get the most important rewards of the current League!
How do you see League Challenges in Path of Exile?
You can check your progress in League from the game using "H" button. Here you can see full lists of the Achievements, Challenges, and all requirements for their completion.