Overwatch SR Boost
Buy Overwatch Rank Boost for Overwatch 2 and reach any desired rank, even the Top 500. Every reached rank will get Competitive Points as well as completed games. which allows you to buy Golden guns to show everyone in the match that you are a skilled PvP player in this game.
Our service works only with the best boosters in every region so you can be sure that you wiil be provided with the best Overwatch SR boost on the market with built-in security measures and Online Support 24/7
WHAT YOU WILL GET
Chosen skill rating boost;

Competitive points

for every match during Overwatch rank boosting;

Any server and queue type boost;

Many completed matches with the high win rate;
EXECUTION OPTIONS
Normal

— we will start completion in 3-6 hours;

Express

— Overwatch SR boosting completion with a high priority with a start in an 1-2 hours;

Super Express

— for this order, we will take the Top 500 Booster of your region for Overwatch MMR carry and finish this offer 40% faster, and you will get a free live stream.
ADDITIONAL OPTIONS
Placement matches

— we will complete all placement matches before Overwatch ELO boost for you and will calibrate your skill rating with the best rank;

Competitive unlock

— we will unlock completitive matches for you;

Specific heroes

— we will play matches on the specific heroes. You need to text us the desired heroes before or after the payment;

I have 3+ defeats

— your chances to rank up are low, so we will complete more games;

Stream

— we will stream all the Overwatch ELO Boosting services for you.
We form a priority list based on the execution speed and time when the order was placed;

We will contact you in the live chat or via email, feel free to ask!

The booster will take your character and will start Overwatch Skill Rating boost and increase your Rank;

We will notify you about the completion or you can see it in a live stream;

Enjoy your completed Overwatch rank boost!
Overwatch account with all unlocked characters and completed placement matches.

Please choose the correct starting level or we can't do this service for you.
FEATURES
We use VPN for your protection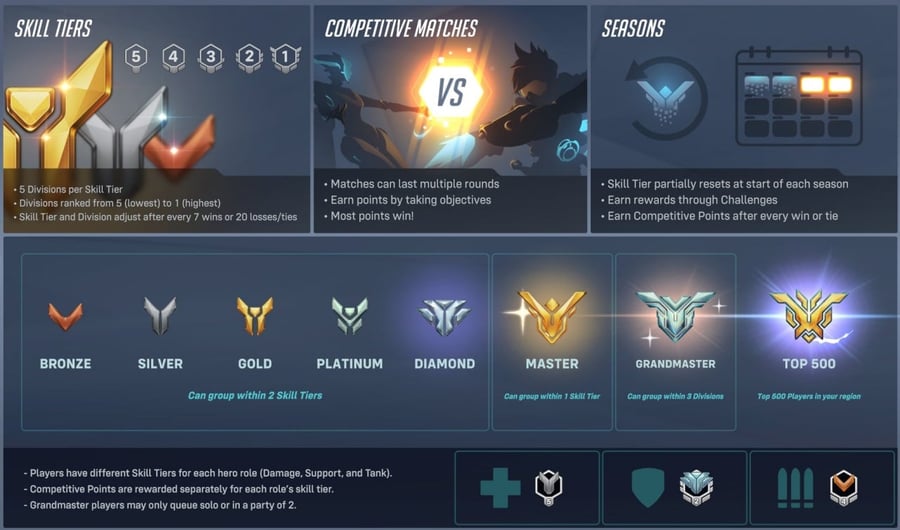 Overwatch Rank Boost FAQ
How do you increase your rank in Overwatch?
The simple answer is — we make consistent wins in ranked matchmaking. We take your character and play for you with a high win rate and best performance, so your rank will be increased until we get you the desired rank during Overwatch 2 rank boosting.
How do you increase Sr in Overwatch?
We play for your character with high performance so your OW rank boost will be completed extremely fast and with the best result.
What is a good skill rating in Overwatch?
This question doesn't have a certain answer. Every player has their own estimated "good skill rating". Overwatch Rank Boost will help you get your desired Skill Rating.
How does skill rating work?
The game determines your Skill Rating (SR) with placement matches at the start of every season. After being placed in a certain Tier, a player gains or loses SR by winning and losing matches. There are two factors that determine the amount of SR changings: your performance and the other players' Skill Rating. Keep in mind that this is only basic information, as developers don't reveal the actual mechanism behind the assigned Skill Rating. SR boosting Overwatch is the best way to increase your rank.
Which Skill rating tiers does Overwatch have?
The Tier divisions for Overwatch 2 SR Boost are as follows:
Bronze (Skill Rating: 1-1500);

Silver (Skill Rating: 1500-1999);

Gold (Skill Rating: 2000-2499);

Platinum (Skill Rating: 2500-2999);

Diamond (Skill Rating: 3000-3499);

Master (Skill Rating: 3500-3999);

Grandmaster (4000).

Top 500 (4200+)
What increases SR Overwatch?
To get significant SR gains, though, you'll have to have consistent wins in Overwatch. You'll get 20 to 30 SR for every win.
How much SR do you get per rank?
For every rank, you need 500-1500 SR depending on your current rank.