CoD MW2 Ranked Play Boosting
Buy Modern Warfare 2 Ranked Play boosting and reach any desired rank, even the Iridescent. Every rank will get a Skill Rating, granting you exclusive rewards at the season's end. Our Modern Warfare 2 SR boost is your best way to get those rewards!
Don't waste your time — choose the desired Skill Rating, and our professional will win ranked matches and reach it for you during Modern Warfare 2 Rank Boost. If you want to get more than 10,000 SR in self-play, we will assign 2 pros to your order.
If you've made progress in unlocking Season 06 Rewards, message us in the chat, and we'll adjust the price with a custom offer.
What you will get
The desired Modern Warfare 2 Skill Division/Skill Rating;

Operator Skins, Camo, Weapon Blueprints and more;

A lot of wins with high KD during the boost;

Military and Prestige ranks experience;

Possible weapons' XP and camo progress;

Battle Pass progression.
If you want to find more detailed information about possible rewards, please check the "Rewards" spoiler below.
Execution options
Normal

— a first-come, first-served basis for cod mw2 ranked play carry service;

Express

— a separate and always free team will complete the order 20% faster;

Super Express

— your order gets the highest priority, decreasing completion time by 35%.
Additional options
Stream

— monitor Modern Warfare 2 SR boost on a personal stream;

Unlock Season 6 Rewards

— we will fulfill the requirements and unlock the chosen exclusive rewards.
During Season 06, players have the opportunity to unlock the following rewards:
5 Wins

— "MW2 Season 06 Competitor" Weapon Sticker;

10 Wins

— Pro Issue SP-X 80 Weapon Blueprint;

25 Wins

— "Taking Out The Trash" Weapon Charm;

50 Wins

— "1v1 Me" Large Weapon Decal;

75 Wins

— "MW2 Ranked Play Season 06" Loading Screen;

100 Wins

— "MW2 Season 06 Ranked Veteran" Weapon Camo;

Rank 5

— "Ranked Competitor" Operator Skins (Home and Away);

Rank 15

— Pro Issue Sidearm Blueprint;

Rank 30

— New Gun Screen that tracks Ranked Play wins;

Rank 40

— Pro Issue Combat Knife Blueprint;

Rank 50

— "Ranked Veteran" Operator Skins (Home and Away).
Choose additional options and order Modern Warfare 2 Rank Boost;

We form a priority list based on the execution speed and time when the order was placed;

We will contact you in the live chat or via email. Ask any questions;

The booster will pilot your character through multiplayer activities;

We will notify you about the Call of Duty Modern Warfare 2 ranked play services completion;

Enjoy the results! And do not forget to rate us on

Trustpilot

.
Call of Duty Modern Warfare 2 game purchased.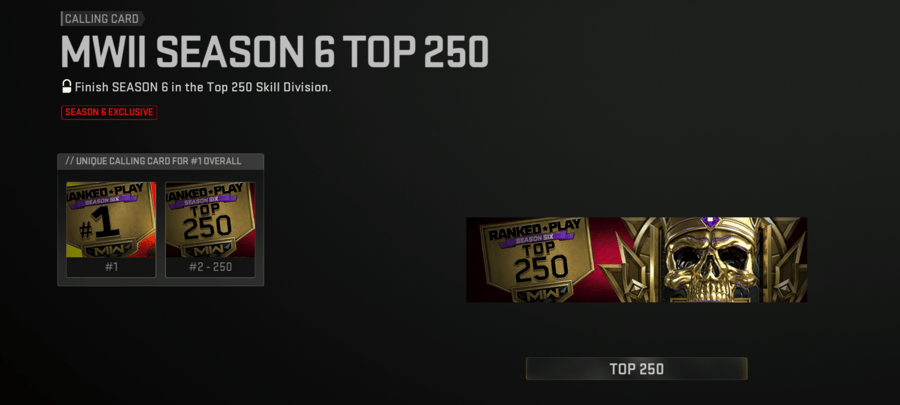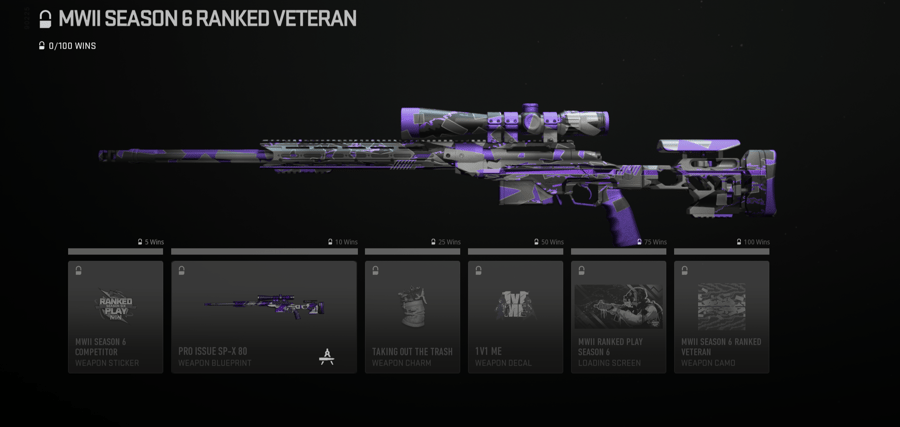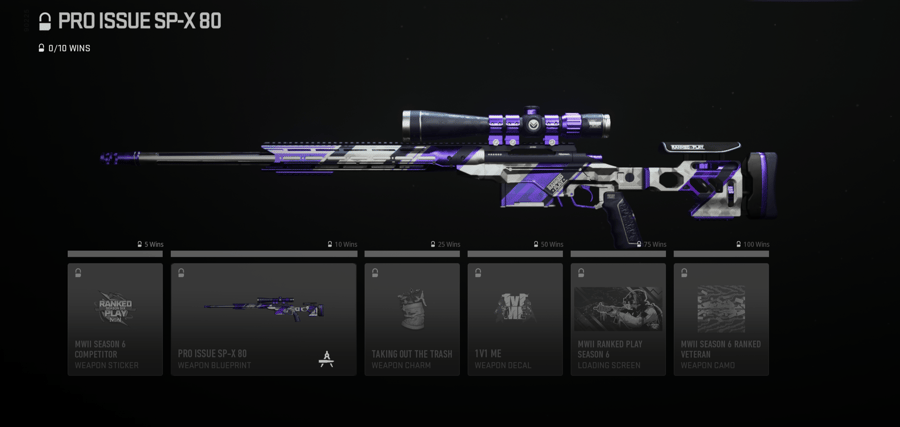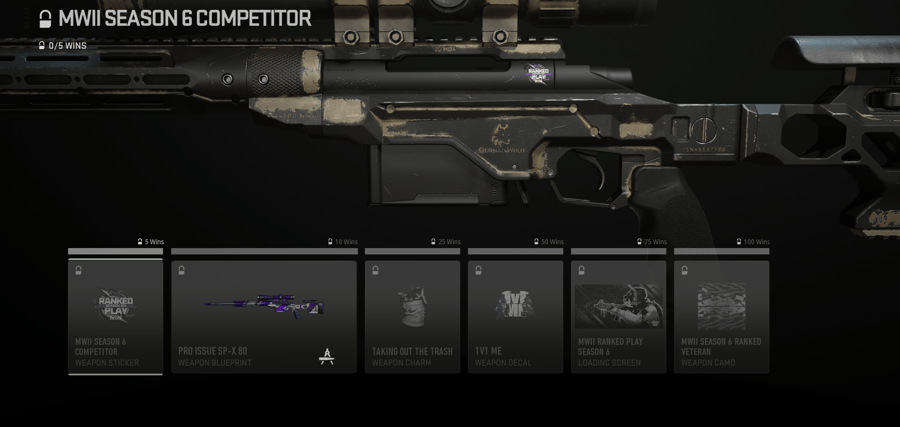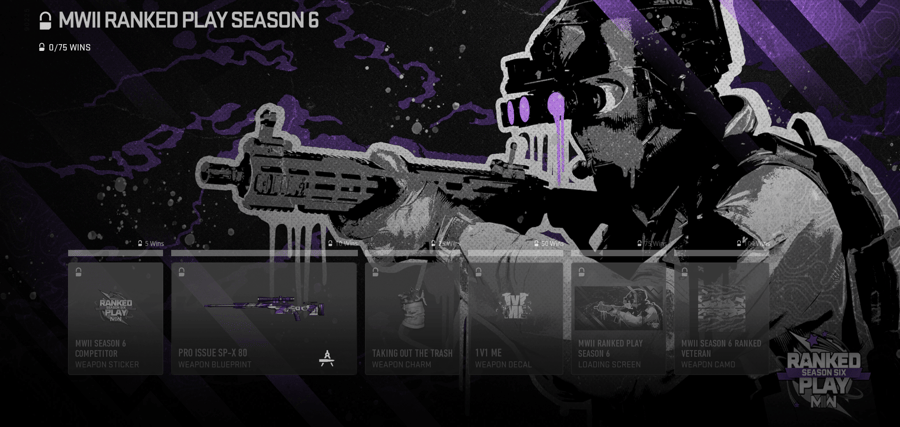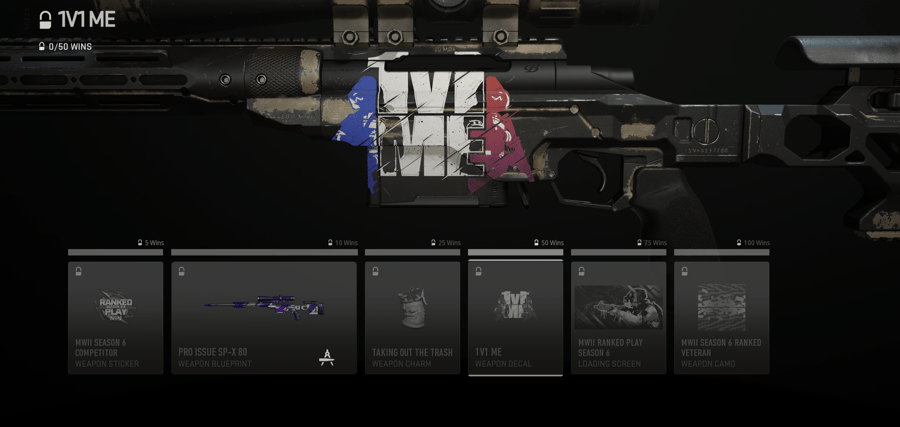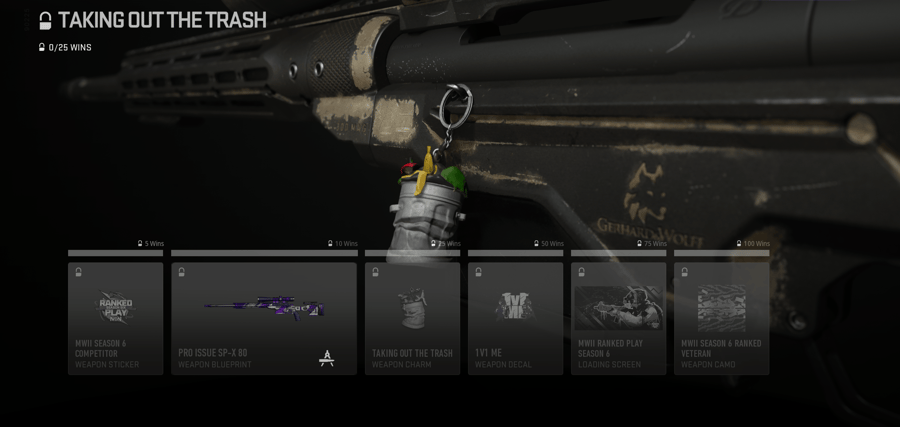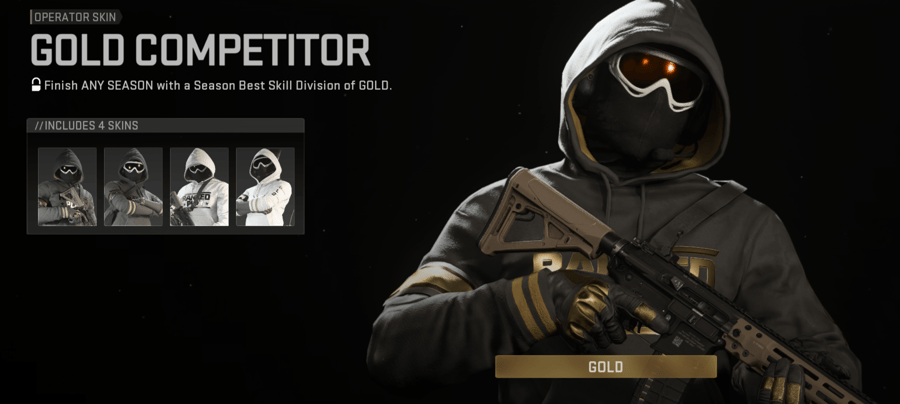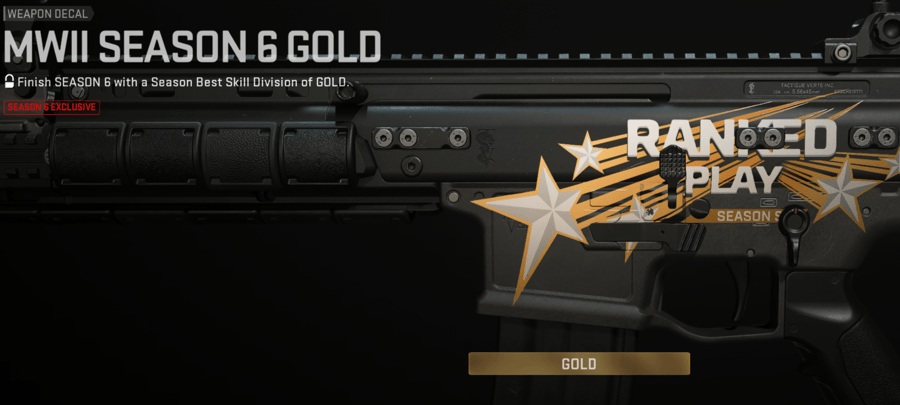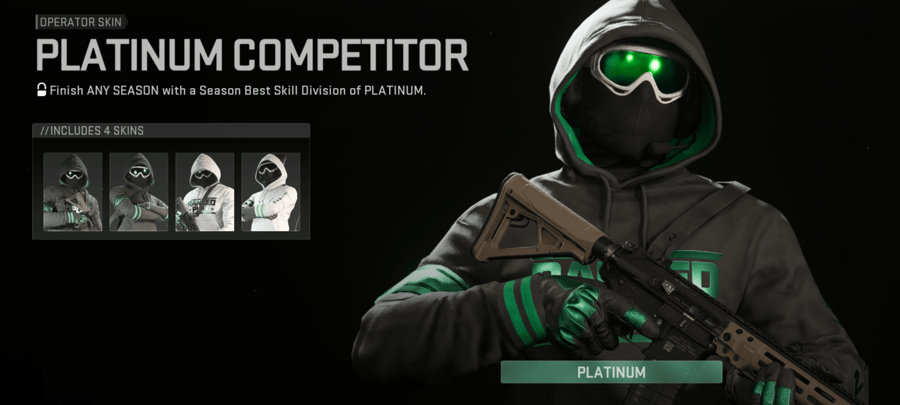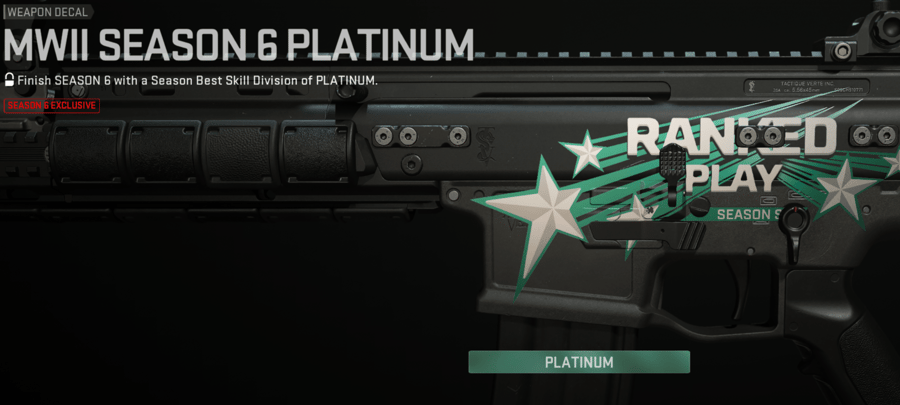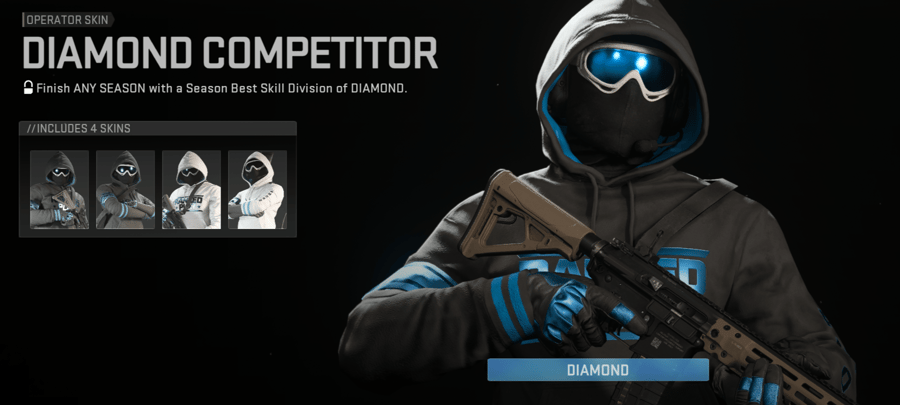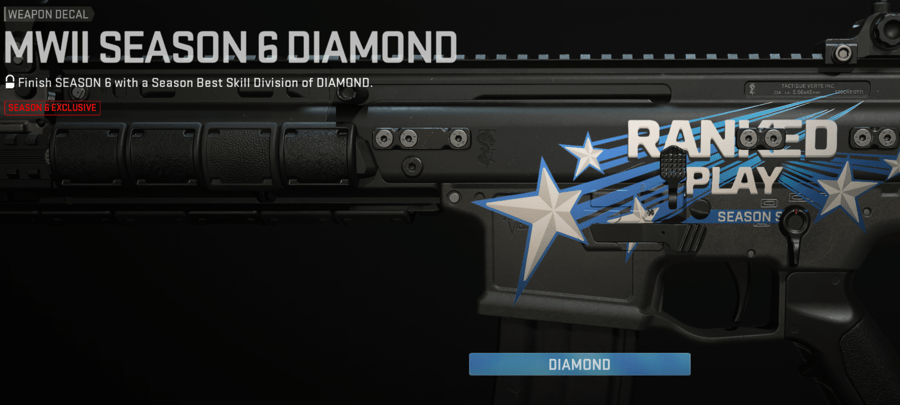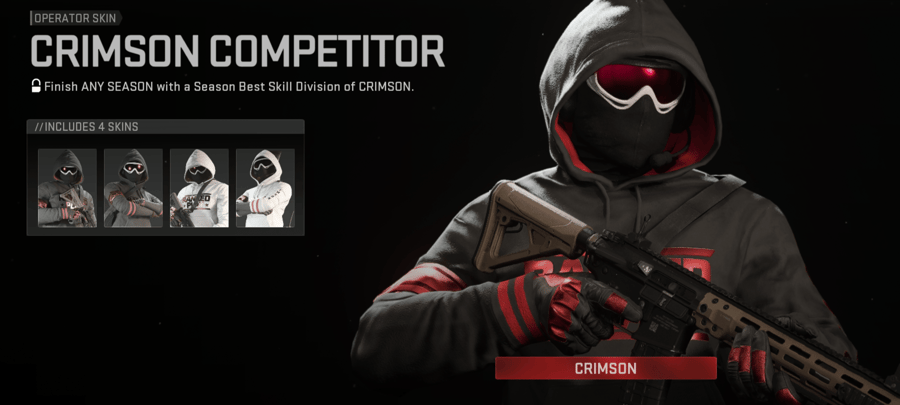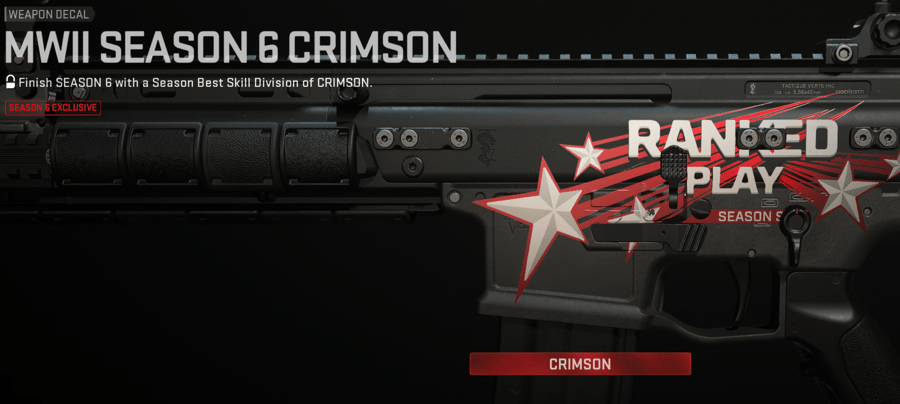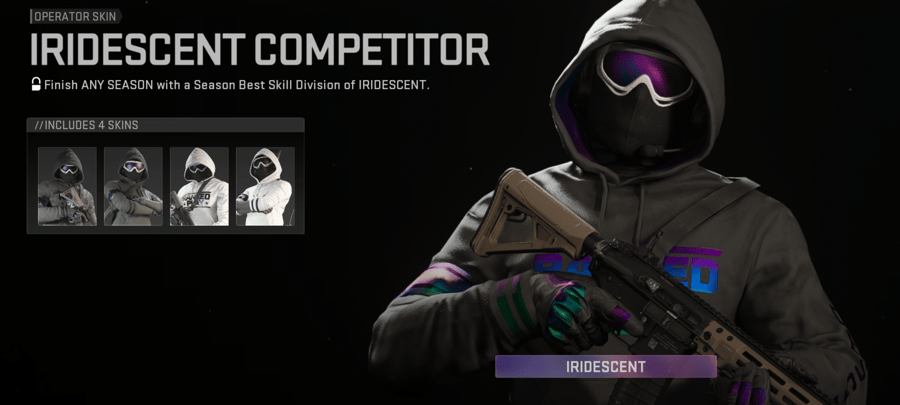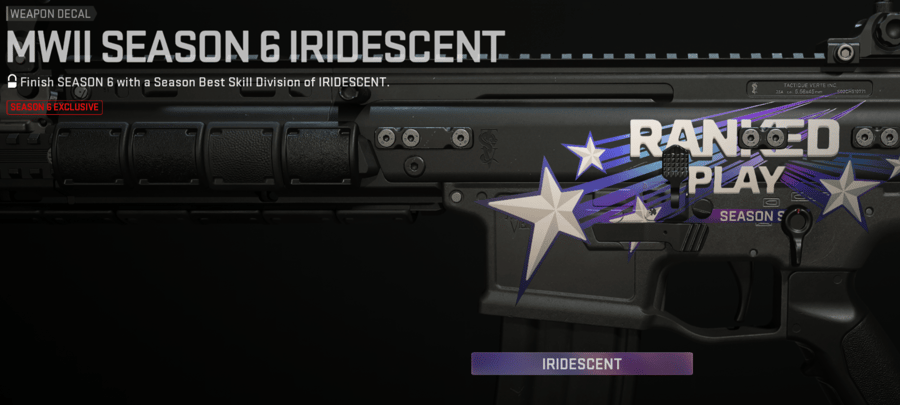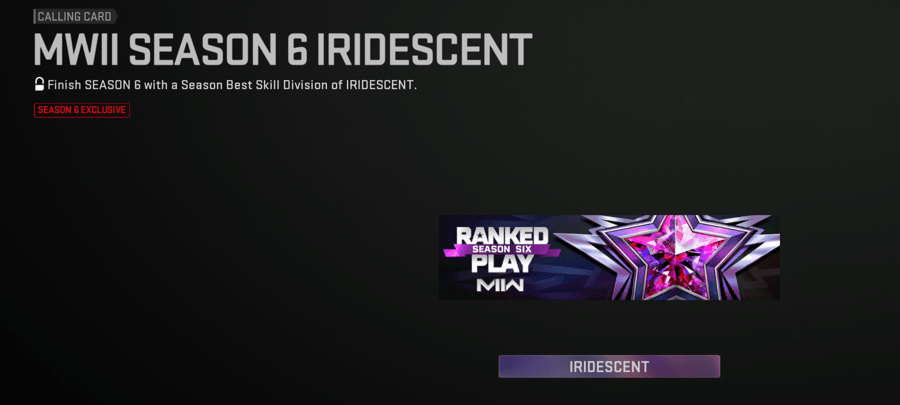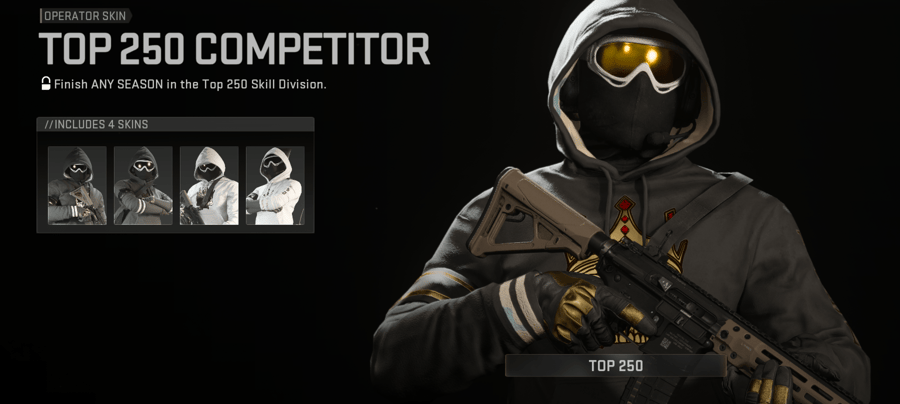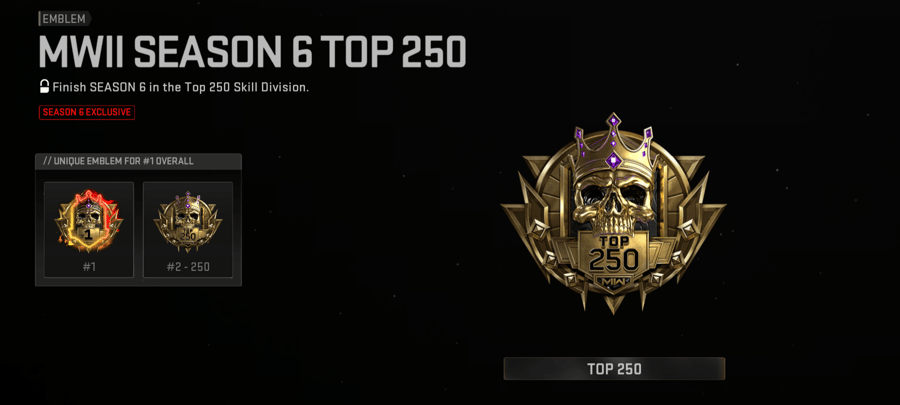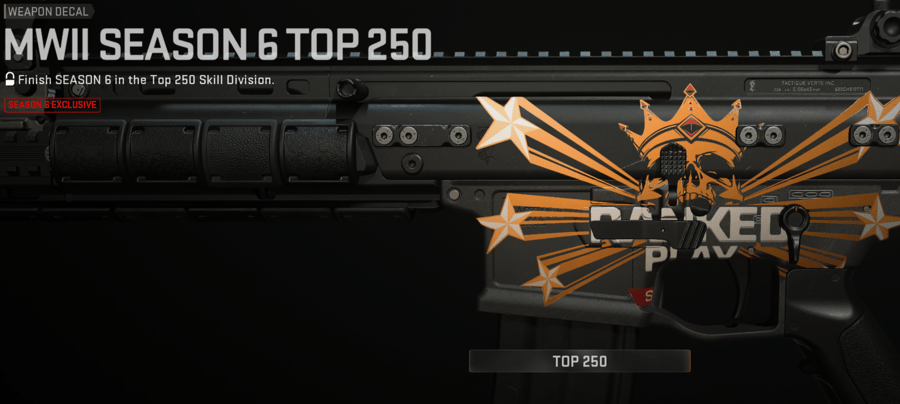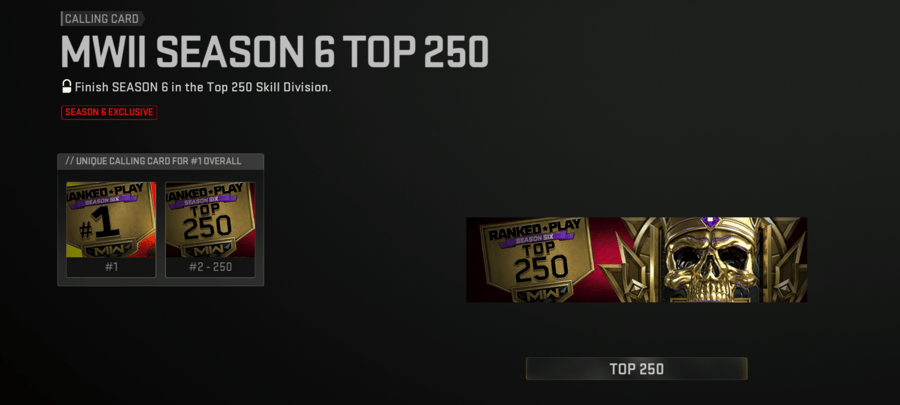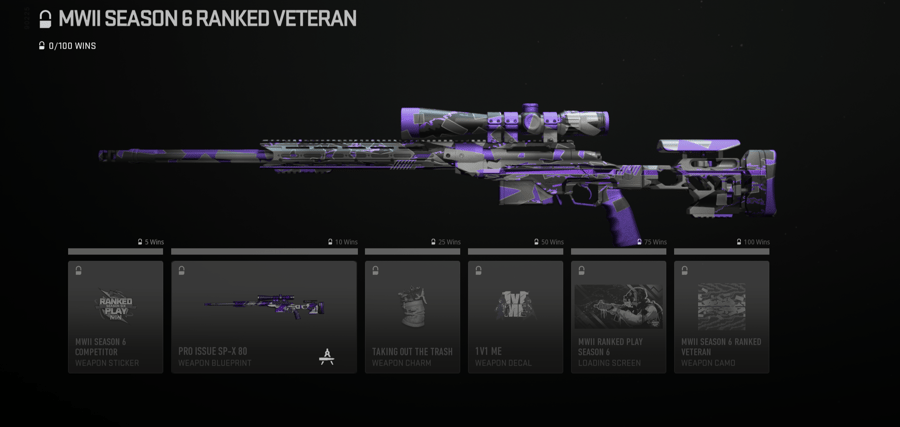 CoD MW2 ranked play boosting service
With our service, you can achieve any Skill Division, even reaching the top 250. Even if you don't care about your rating, our MW2 rank carry service is an excellent opportunity for you to collect all available seasonal rewards, including Operator Skins, Camos, Stickers, and much more. During the service, our professionals will level up your weapons and make progress in camo challenges.
Call of Duty Modern Warfare 2 ranked play FAQ
What are MW2 ranked play divisions?
Bronze

– 0-899 SR;

Silver

– 900-2,099 SR;

Gold

– 2,100-3,599 SR;

Platinum

– 3,600-5,399 SR;

Diamond

– 5,400-7,499 SR;

Crimson

– 7,500-9,999 SR;

Iridescent

– 10,000 SR minimum;

Top 250

– 10,000+ SR.