The Obsidian Sanctum is one of the first raids that meet people in the Wrath Of The Lich King Classic expansion. Despite the fact that this raid holds only one boss, the encounter can be both hard and easy depending on raid capability and players' skill.
WotLK Obsidian Sanctum Overview
The Obsidian Sanctum is an area in the Chamber of the Aspects. There is only one boss inside whose name is Sartharion the Onyx Guardian. The raid also holds three drakes: Shadron, Tenebron, and Vesperon. They will join the boss fight, increasing its difficulty and rewards you get. You can kill them before the boss encounter but in that case, your raid won't get extra loot.
Still, you can choose the number of dragons that will join the battle, moderating the difficulty of the fight to the one that fits your raid the best.
WotLK Obsidian Sanctum Entrance
To enter The Obsidian Sanctum players should head to the depth of the Wyrmrest Temple in the middle of Dragonblight. There you will find the flight point which is used by both factions.
---
There are no special requirements like a flying mount to enter the raid.
Raid Preparations and Pre-Raid Equip
The Obsidian Sanctum is the first trial of the cold and surly Northrend. Don't neglect the danger that awaits you there and be prepared to strike back with the triple force! The first step to be taken for a comfortable encounter is to make sure that your raid has appropriate pre-raid gear, enchantments, and consumables. Check out our guides on how to get everything you might need:
---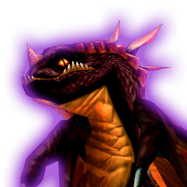 WotLK Obsidian Sanctum Quick Tactics
It's not the hardest WotLK encounter, but the short tactic will not be superfluous:
Sartharion Three Drakes Zerg Strategy
If you decide to kill The Sartharion with three drakes alive this is the best tactic to choose as it is quite simple and doesn't require an ultra-high amount of raid DPS. The main idea is to focus and kill Sartharion in 90 seconds. Killing Sartharion with all three drakes brings in some extra mechanics to follow. Here are some general tips:
Void Blast

you better stay out of those things. This is a big purple circle of pure death, just run out of it;
Tenebron is the first drake that lands and he will not cause a lot of trouble for you. As he lands he can either be tanked by an off-tank character or just taunted by your main tank together with Sartharion. Problems start when Sartharion reaches 25%. That will enrage Tenebron dealing 500% increased damage. Simply assign one player to kite Tenebron and keep on doing that for the remainder of the encounter. Hunters or Druids are a great choice as they can easily stay away from Tenebron.
Just make sure your DPSs follow all the things said above, this boss is not as difficult as it may seem. It obviously needs some practice and a few pulls to try but once all your DPS are alive and are not dying to mechanics your raid will be fine.
Sartharion Three Drakes Regular Strategy
The regular strategy means killing each of the three twilight drakes as soon as they land, then killing Sartharion. This tactic prolongs the fight drastically as you have to deal with more mechanics from each of those drakes. The only advantage of this type of strategy is that the damage output requirement is way lower. If your raid is not able to do enough damage for the zerg strategy, simply follow this one.
WotLK Obsidian Sanctum Loot
Of course, we understand, that most of you are interested not only in tactics but in loot tables too. So, just check the list below.
It is interesting, that you can get rewards only from Sartharion, but if you keep alive at least one another dragon boss, you can loot additional items including mounts:
Dragons alive
10-man
25-man
0
Without additional items
Without additional items
1
One 200 ilvl additional item
One 213 ilvl additional item
2
Two additional items of 200 and 213 ilvl
Two additional items of 213 and 226 ilvl
3
Two additional items of 200 and 213 ilvl, and also

Reins of the Black Drake

mount
Two additional items of 213 and 226 ilvl, and also

Reins of the Twilight Drake

mount
---
Now let's see loot from Sartharion and additional items.
Sartharion 10-man
Sartharion 25-man
---
We hope, with all this knowledge fight with Sartharion and his friend will be just a cakewalk. Don't forget to rate our guide if this article was helpful for you, and good luck in your adventures!