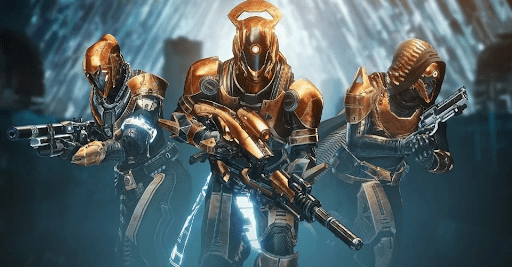 Vault of Glass
Vault of Glass is a re-release of Destiny's very first original raid-favorite, which was given new life in Destiny 2 in Season of the Splicer. Bungie has made the updated raid as challenging as ever, taking into account the increased strength of players, and also introduced versions of the legendary loot now for Destiny 2.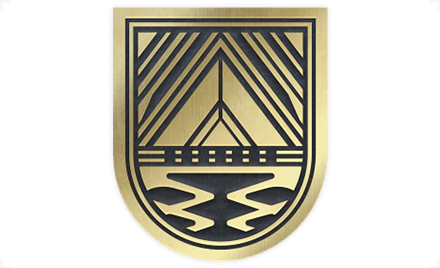 The raid can be roughly divided into 7 parts:
Opening the Vault
Confluxes
Oracles
Templar
Gorgon's Labyrinth
Gatekeepers
Atheon, Time's Conflux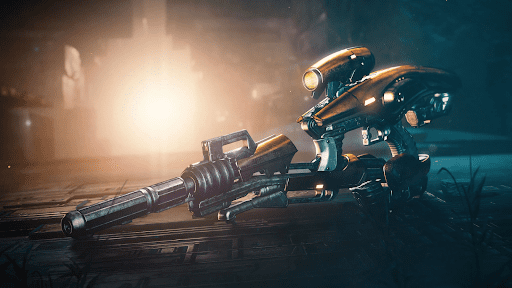 Exotic Vex Mythoclast fusion rifle
First, after loading into the Vault of Glass, your fire team will find themselves in front of a vault that has a locked entrance. So your team must open it, fighting off Vex who will try to stop you.
After entering the vault and walking through its platforms, you will eventually get to the boss arena, where you will fight the first boss of the Glass Vault – Templar, which can be very difficult for inexperienced raiders to cope with. But first two other tasks await you: defending Conflux and destroying Templar's oracles.
Next you need to pass through Gorgon's Labyrinth, where gorgons – luminous harpies of Vex, that will destroy your squad in a few seconds if they find you.
Another obstacle between you and the final boss is the Gatekeepers. These hydras prevent you from using the portals you'll need to kill the final boss of Atheon.
After defeating the Gatekeepers and gaining control of the portals, you can finally fight Atheon, the Time's Conflux.
After defeating the final boss of the Vault of Glass , you have a chance to get the Exotic Vex Mythoclast fusion rifle (all depends on your RNG).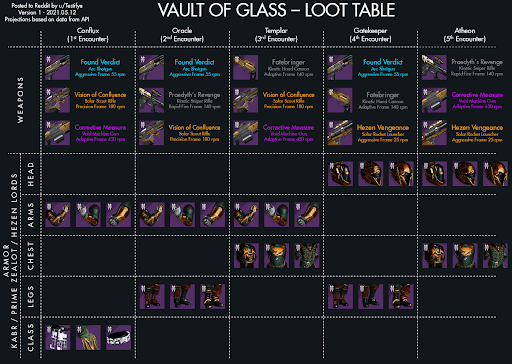 Master difficulty
Vault of Glass has two difficulty modes.
The main difference of the Master mode is the increased requirement for light – 1350, which is even more than necessary to pass the Grandmaster Nightfalls (1335). It means that all team members must have at least 1340 of light to defeat Atheon, otherwise chances to win are equal to zero.
Also, starting from the first encounter you will meet stronger mobs and Overload Champions will also appear in all raid stages, not only in Confluxes and Gatekeepers. No new mechanics or alterations will appear, but you will need to complete a weekly quest to get a new Timelost variant of a Vault of Glass weapon.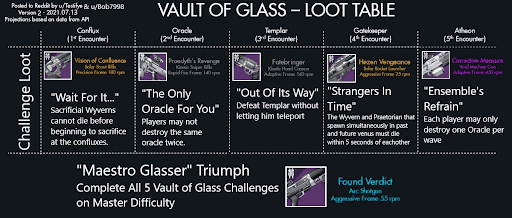 Every week there is a change of quest, which is necessary not only to get that week's Timelost weapon, but also to complete the Triumph for the Seal.
The new Timelost weapons are an analog of the Adept weapons from other activities (Grandmaster Nightfalls and Flawless Trials of Osiris).
The peculiarity of the Timelost weapons is that it has two perks in the third and fourth slots, which allows you to forage for two godrols on one weapon. Tempting, isn't it?
From the last "vendor's" chest you can spawn a Timelost weapon similar to a normal raid, but it will cost 25 Spoils of Conquest instead of 20.
Timelost weapons cannot be exchanged for Spoils of Conquest at the end of the Vault of Glass, unless of course they are re-dropped. Each Timelost weapon has a unique shader, so can't apply it to other guns. Also, Timelost guns come with +3 stats, except Impact stat and can take Adept Mods. If you don't have Adept Mods, these have a chance of dropping throughout every encounter of the Master Vault of Glass. This raid also has a chance of reward Enhancement Prisms and Ascendant Shards, along with high stat armor. What stat will be high also rotates weekly similar to the Timelost weapons. Next, let's look at Timelost weapon options:
Hezen Vengeance (Rocket Launcher)
Praedyth's Revenger (Sniper Rifle)
Corrective Measure (Machine Gun)
Fatebringer (Hand Cannon)
Found Verdict (Shotgun)
Vision of Confluence (Scout Rifle)
WHAT IS THE DESTINY 2 TIMELOST WEAPON THIS WEEK?
Dates

Weapon

Curated Perks

Challenge

July 6 – July 13

Hezen Vengeance

Overflow

Cluster Bomb

Strangers in Time

July 13 – July 20

Corrective Measure

Dynamic Sway

Firefly

Ensemble's Refrain

July 20 – July 27

Vision of Confluence

Zen Moment

Full Auto

Wait For It

July 27 – August 3

Praedyth's Revenge

Feeding Frenzy

Firefly

The Only Oracle For You

August 3 – August 10

Fatebringer

Explosive Payload

Firefly

Out of its Way

August 10 – August 17

Hezen Vengeance

Overflow

Cluster Bomb

Strangers in Time

August 17 – August 23

Corrective Measure

Dynamic Sway

Firefly

Ensemble's Refrain
The rest of the Timelost weapons have been datamined, so we know what they and their curated rolls are:
Fatebringer

– Explosive Payload and Firefly

Praedyth's Revenge

– Feeding Frenzy and Firefly

Found Verdict

– Full Auto and Vorpal Weapon
Every week's Timelost weapon has a corresponding challenge associated with it:
Strangers in Time (Gatekeepers): The team must defeat the Wyverns and the Praetorians at the same time

Ensemble's Refrain (Atheon): Each Guardian in the portal team must shoot one Oracle each sequence

Wait for It (Confluxes): Guardians must defeat the Wyverns while they are sacrificing

The Only Oracle for You (Oracles): Guardians can't shoot the same Oracle twice

Out of Its Way (Templar): Guardians must not allow the Templar to teleport
The Found Verdict can be obtained as a reward for the Vault of Glass triumph called Maestro Glasser. You must pass all the encounters of Vault of Glass on Master difficulty to complete the triumph.
All armor from the Master version falls with increased stats, taking into account the weekly rotation of stats.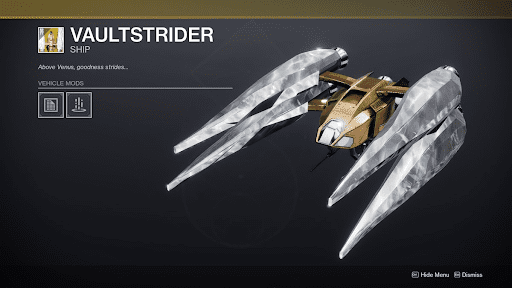 A bonus for completing the Master mode will be the triumph of the Master Glasser and Exotic ship Vaultstrider.
The reward for both the regular mode and the Master looks very attractive, however, to get the weekly reward of Timelost weapons, it is necessary to start the weekly activity with the closing of the raid in Master mode.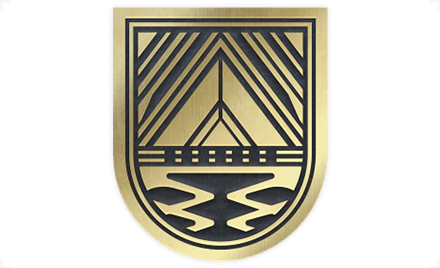 Recruiting a team of 6 players is already difficult, and with the increased requirements for the Light, the task may seem challenging for you. We're ready to help you pass the Vault of Glass both in normal mode and in tricky Master Mode, get exclusive weapons and armor and gain the glory of the Maestro Glasser.