Finally Destiny 2 is experiencing wonderful times. The Season of the Deep has begun, and with it, Fishing has appeared in the game. Here we'll provide all information on how to unlock fishing, how to catch the Legendary or even Exotic fish, and of course about what rewards you can obtain for it.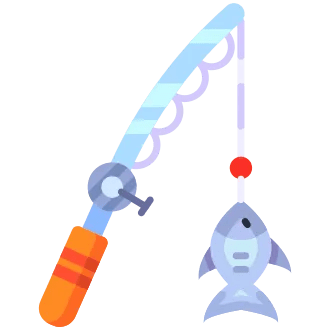 How to Unlock Fishing in Destiny 2
You can unlock the D2 Fishing after completing the Seasonal introductory mission on Titan. At the Terminal you'll get a quest to dialogue with Suraya Howthorne in the city.
She will give you a Fishing Tackle and tell you that you need to stuff it with bait. The tackle will display information about how much bait you have. And after Fishing, it will show you how many fish you have with you and their rarity.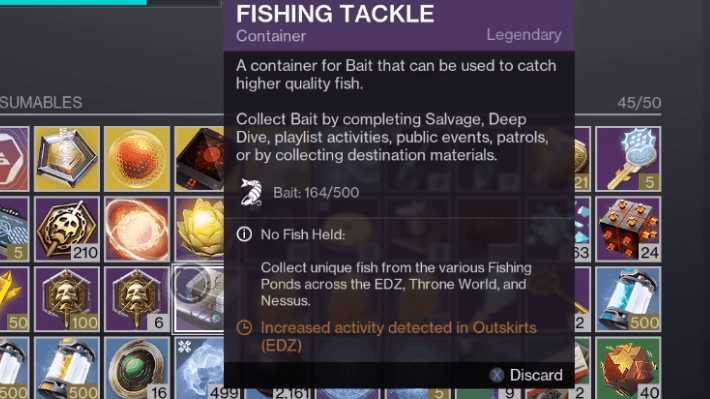 How to Farm Bait
Bait drops in any Playlist Activities, Deep Dive (19 baits), and for activities in the open world like public open events and patrol missions, and also collecting Planetary materials (1 bait). The fastest way to fill your Tackle with these very baits is just doing heroic public events and patrol missions around. The easiest way to do this is to team up with friends. They take one mission, you do it, then take another and so on. Overgear is always ready to keep your company in Deep Dives farm and any other activity, if you don't have a team.
Where are the Fishing Spots in Destiny 2?
There are three places in the game where you can fish:
The Outskirts in EDZ;

The Cistern on Nessus;

The Miasma in the Savathun's Throne World.
All of these spots you will need to visit as part of the Introductory quest, so you won't miss out. After fist visit of all three locations you can get 10 free baits from Suraya Howthorne.
In order not to lose your way, mark the fishing location with a beacon on the map. Because in fact it's like a public event and without a beacon it can be a little harder to find. And by the way, because it is a public event, it conflicts with other events, for example, arriving at the location of the Outskirts of the EDZ, you may see that the fishing pond will not be in place. This happens if an open event is coming, in progress or just finished. Wait a while and the Fishing Spot will reappear, emitting the typical "deck bell" sound.
How to Fish in Destiny 2
How to fish? It's an easy one! Stand on the decks and turn to face the water, then press the action buttons, depending on which device you're playing on, to cast your fishing rod. If you've played fishing minigames before, the mechanics should be pretty familiar. Your goal is to press the interaction button the moment you notice your the fish bite and the float goes under the water. The faster you press, the higher quality fish your catch.
Fish come as well as equipment rarity in green, blue, Legendary purple, and Exotic gold. You can check the list of fish by location and rarity in the special tab of the Season Triumphs. Each cast of the rod will cost you one bait and if you hit the interaction button before the float goes under the water, you will pull out the hook without a fish and lose the bait for nothing. So take your time while fishing for a Perfect catch.
Focused Fishing in Destiny 2
While fishing, you may notice The Focused Fish meter at the lower left side of the screen. This meter is common to all of your fishing partners on the current spot. The more you and the other Guardians fish, the faster the meter fills up. The more it fills up, the more likely you are to catch a rarer fish. So try to fish in groups and take more bait with you to fill the Focused Fishing meter faster each time you fish. It's very important to remember that the meter resets when an open public event appears, like we mentioned before – they conflict. So for a Perfect Catch, your best choice is to start as soon as the fishing ponds appear and catch as many fish as you can in one approach. This will increase your chance of catching Legendary and even Exotic fish.
How to Easily Catch Exotic Fish in D2
Over 24 new fish can be caught, with most being easy to catch. Exotic fish are harder to catch, but worth it for adding to your tank and receiving a Triumph and Exotic Armor. Also, some of the luckiest Guardians may get Ascendant Shards.
| | Fish Name | Rarity | Source |
| --- | --- | --- | --- |
| | Kheprian Axehead | Exotic | EDZ |
| | Aeonian Alpha-Betta | Exotic | EDZ |
The process for catching Exotic fish is outlined below:
Stock up at least 50 – 70 Bait;

Choice the fishing hot spot (skip it if there are less than two Guardians);

Team up with friends.
By following these steps, your likelihood of catching an Exotic Fish will increase significantly. After depositing it, the fish will be visible in your tank. And there are also aquarium plants you can obtain for tank decoration. Just in case.
Destiny 2 Fishing Rewards
What's it all about? It's all for rewards, of course.
By catching a Legendary fish and depositing it in the Aquarium in the H.E.L.M. you can be rewarded with armor, materials, Exotics, and that very Reckoning weapons:
Legendary Fish

can reward you with Legendary gear, including Reckoning weapons, Sonar Station Reputation, Glimmer or Deep Dive keys;

Exotic Fish

can reward you with Exotic items, such as Ascendant Shards, Exotic armor, and all Legendary Fish rewards.
It's important to remember that each of the three locations has its own fish list – there are uncommon, rare and legendary fish. As we mentioned, you can track them in Triumphs. The Triumphs page will keep track of the fish you catch and how many they are.
Caught fish you send to the Aquarium in the H.E.L.M. and get a reward in return. Thus, Fishing is the main source of this Season's Reckoning weapons. Before you can focus your Deep Engram on these weapons, you will need to unlock them specifically through fishing.
Reckoning Weapons
The best strategy for getting a Reckoning weapon for fishing is to fill your fishing tackle with bait and go with your friends to the fishing spot that is recommended in the tackle description in your inventory. If you check your tackle, you'll see a message like "Increased activity detected on the Outskirts of the EDZ." Go there and fish as long as you can, hoping to catch a few legendary ones that you can deposit to get the Reckoning weapon. All of these weapons are not craftable. But they all come with a unique Origin Trait – Disaster Plan.
| | |
| --- | --- |
| Disaster Plan | Picking up ammunition increases this weapon's flinch resistance and range, which lasts until it is fired again. Swords gain a large increase to charge rate instead. |
Best choice here is reworked Spare Ration Legendary Hand Cannon, perfect for PvP. Just check out our Destiny 2 Season of the Deep Boost.
| | Weapon | Type | Ammo? | Element? |
| --- | --- | --- | --- | --- |
| | Bug-Out Bag | Submachine Gun | Primary | Solar |
| | Just in Case | Sword | Heavy | Solar |
| | Last Man Standing | Shotgun | Special | Solar |
| | Outlast | Pulse Rifle | Primary | Solar |
| | Sole Survivor | Sniper Rifle | Special | Arc |
| | Spare Rations | Hand Cannon | Primary | Kinetic |
Blueberries.gg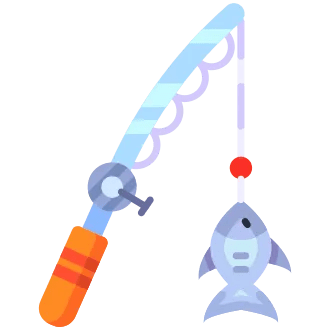 Have a good catch, Guardians! See you later.