This year, with the change of name Solstice 2022 (just Solstice and all) will not leave indifferent even those who are not particularly interested in this PvE event itself. In addition to the new activity, new armor set, new challenges, and special currency, this year's Solstice, which runs from July 19 to August 9, introduces a new system of rerolling for special armor items, which will make it easy to get a god roll, Something New Stasis Hand cannon, and the Event Card. About all of this in detail in this article.
Event Card
First, let us tell you about the Event Card, which will "engage" you in all the events in the game, and the first one will be the Solstice.
Here's what Bungie says about the Event Card:
Event Card Summary
"Solstice is launching with the Event Card to organize objectives and help guide players on what they can do during the event;
The Event Card is available for free for all players;
View your Event Card Interacting with Eva Levante in the Tower or via the Quests tab (right next to Seasonal Challenges);
The Event Card consists of Event Challenges, Event Seals and titles, and Upgraded Event Card Rewards. Note the free events you know and love will remain the same, and some of the free rewards are now claimed via the Event Card (upgrade not required);
Completing Event Challenges earns players event-related rewards and Event Tickets;
Players can upgrade their Event Card for 1000 Silver to unlock an instant claimable reward bundle and the ability to spend Event Tickets for more rewards;
Not sure you'll earn enough Event Tickets? No problem—Tickets are earned even if you haven't upgraded your card, and the Event Card can be upgraded any time while the event is active. Note Event Tickets must be spent before Solstice ends on August 9!
Upgraded Event Card rewards will be exclusively obtained through their event in the year they launch but could be added to the Eververse store in the future".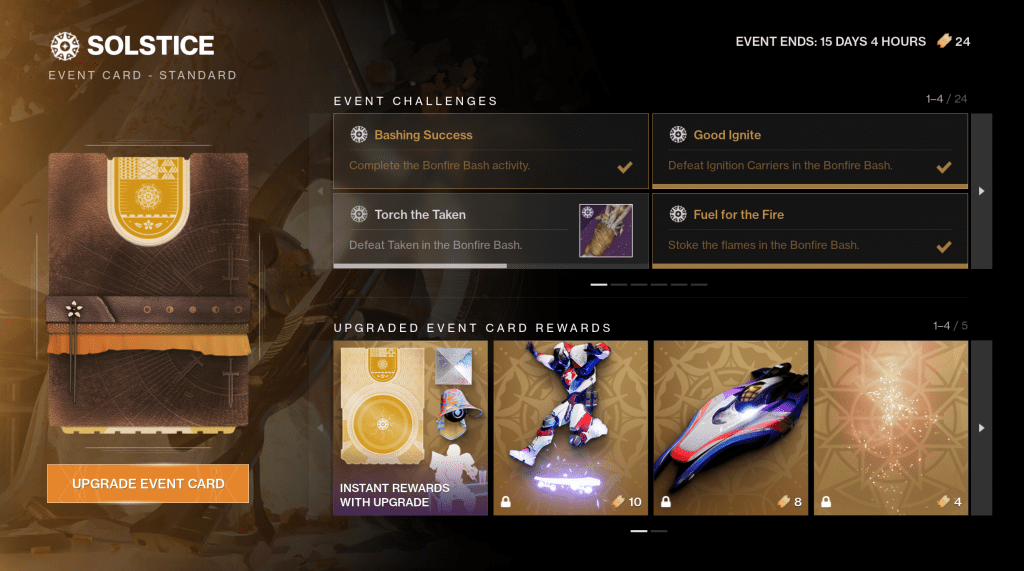 In other words, the Event Card is the equivalent of a Season Pass. The card will be the main source of rewards that you can get during the event, by tracking and completing challenges through it. Keep in mind that all armor challenges are now converted to Event Card challenges, which means that these challenges are now bound to your account instead of one of your characters.
From Bungie we have already known that for 1,000 Silver we can upgrade our Event Card, which gives additional rewards in addition to those available for Event Tickets. By the way, Solstice armor and glows are not part of the Event Card. And oddly enough, you don't actually need an Event Card to access the Solstice and its rewards. However, for those wondering, here's a table with the differences between the free and upgraded cards:
Free Event Card rewards
Upgraded Event Card rewards

Kindling

Event Cards

Flamekeeper Title

All Around The Bonfire – Emblem

Hyperborean Pinion – Sparrow

Hot Dog Eating Champ – Emote

Sunny Vacation Shell – Ghost Shell

Iris Gossamer – Shader

Skateboarding – Emote

Platinum Osprey – Ship

Peach Spotlight Effects – Transmat Effect

Bitten Cookie Projection – Ghost Shell Projection
Don't forget, that our players are always ready to help you with any Event Card challenges you're interested in.
What is Solstice 2022?
So, whether you have an Event Card or not, the Solstice is a unique annual event that attracts many players with its rewards.
This year's system is a little different: Eva Levante will give each Guardian a set of armor that can be upgraded to get the Legendary set with the highest stats in Destiny 2 and customize it with glow (the white one is given for completing all the Event challenges). By participating in the exclusive Bonfire Bash activity in the European Aerial Zone, the players will be able to upgrade their armor set and get a special currency for rerolling Solstice armor stats, that is, potentially gives you the coveted god roll. Such an opportunity appears in Destiny 2 for the first time. And you can also get the first-of-its-kind Something New 120 RPM Stasis Hand Cannon. I know you guys want all that already.
Solstice begins at Eva Levante's in the Tower. She will immediately give you the first armor set and send you to the initial quest, which opens access to the Event challenges themselves.
Once you have completed and collected the challenge, don't forget to Kindling. What it's for and how to use other types of currencies of the Solstice will tell a little later.
Now you can complete non-Bonfire Bash activities until you've earned 4 Silver Leaves. Farm strikes or PvP matches to earn Silver Leaves quickly. These activities must be performed wearing the Solstice armor. Now you can head to the Bonfire Bash activity.
Bonfire Bash activity
Bonfire Bash is an exclusive Solstice activity, replacing the usual Solstice of Heroes activities of past years in the European Aerial Zone. Its essence is to build bonfires out of the remains of defeated enemies.
Each round lasts 8 minutes, during which you need to kill as many minibosses, Ignition Carriers, as possible, get from them Igniter white orbs to stoke the Bonfire in the center of the map.
In this difficult task, you can be hindered by the Taken. You'll have to go to the Taken Interference, defeat the Taken guarding the Blight, destroy the Blight, and repeat two more times. After that Bonfire will ignite again and you can continue to contribute white orbs. Ignition Carriers and Taken Interference are marked in your HUD.
At the end of the run, next to the Bonfire will spawn a Taken boss with no time limit to kill it. After defeating the boss, items and converted Silver Ashes will drop from the Bonfire. The more Solstice armor you have equipped, the more Silver Leaves you'll convert and the more Igniters were thrown into the Bonfire, the more armor will drop.
---
Now we come to the most interesting part – the Solstice armor.
Solstice armor
Once you get The Solstice armor set, called Candescent armor, you can upgrade it by completing Event Card challenges and reroll stats to your desired god roll, you can upgrade it to glow, and that's exactly why many players love Destiny 2 so much.
Armor challenges
There are a total of 24 challenges available:
| | |
| --- | --- |
| Name | Challenge |
| Bashing Success | Complete the Bonfire Bash activity. |
| Torch the Taken | Defeat 20 Taken in the Bonfire Bash. |
| Good Ignite | Defeat 20 Ignition Carriers in the Bonfire Bash. |
| Fuel for the Fire | Stoke 50 flames in the Bonfire Bash. |
| Ash Tray | Collect 500 Silver Ash. |
| Fuel for the Fire II | Stoke 100 flames in the Bonfire Bash. |
| All Around the Bonfire | Complete the Bonfire Bash activity against all combatant races twice. |
| Fuel for the Fire III | Stoke 150 flames in the Bonfire Bash. |
| Like Wildfire | Defeat targets anywhere in the system. Defeating Guardians awards bonus progress. |
| Superlative | Defeat targets with Super abilities. |
| Pyromania | Defeat combatants with Solar abilities. |
| Fire Power | Defeat combatants or opposing Guardians with Power weapons. |
| Forged in Flames | Defeat 100 Guardians in any activity. |
| Shotgun Solstice | Defeat targets with Shotguns. |
| Hand Lighter | Defeat targets with Hand Cannons. |
| Burn Them Down | Defeat 60 bosses anywhere in the system. |
| Raking the Coals | Complete playlist activities to earn Silver Leaves. |
| Lamplighter | Complete patrols on any destination to earn Silver Leaves. |
| Solstice Jubilee | Complete public events on any destination to earn Silver Leaves. |
| Dare to Dream | Complete runs of the Blind Well or Dares of Eternity to earn Silver Leaves. |
| Brightfall | Complete Vanguard Ops or Nightfall to earn Silver Leaves. |
| A Spark in the Dark | Complete Sever missions or rounds of ALtars of Sorrow to earn Silver Leaves. |
| Fires of Competition | Complete matches in Crucible or Gambit playlists to earn Silver Leaves. |
| In the Hot Seat | Complete activities within the Throne World to earn Silver Leaves. |
Kindling, Silver Leaves and Silver Ash
Three new event currencies are required for armor manipulations:
Kindling: An upgrade material needed to unlock better armor focusing options. Obtained from Event Card challenges;
Silver Leaves: A currency obtained from activity completions while wearing Solstice armor. Needs to be converted into Silver Ashes through the Bonfire Bash activity;
Silver Ashes: A refined version of Silver Leaves. Used in rerolling your armor stats.
How to upgrade and reroll Candescent armor set
When you get your first Kindling, inspect one of the items of your armor set, hover over the fifth mod slot and you'll have the option to spend your Kindling to activate a Small Kindling. When you get the Silver Ashes, go back to that item, find the activated Small Kindling and spend Silver Ash to activate the Glowing Embers. This will reroll your armor stats and increase its stat threshold. You only need to repeat this simple scheme three times, each time the cost will increase, so you'll need a total of 6 Kindlings and 120 Silver Ashes to upgrade one armor slot. It will be nice to know that all subsequent matching pieces of armor will drop right away with the upgrade. The class item, on the other hand, cannot be upgraded.
After you upgrade all items and complete the set, you will obtain a white glow. In Eververse store you can buy an armor set with other subclass glow options for 6,000 Bright Dust or 1,500 Silver:
Arc: Light blue
Solar: Orange
Void: Purple
Stasis: Dark blue
Solstice 2022 Rewards
In addition to the Candescent armor set, as a reward for Solstice 2022 you can also get Something New – the first Stasis 120 RPM Hand Cannon in Destiny 2, the new title Flamekeeper, and last year's Compass Rose Shotgun.
Something New isn't the easiest weapon for PvP, but it's also something to work with. Its origin trait, Dream Work, auto-reloads a part of your magazine upon landing an assist, which gives the same effect as Overflow and Enhanced Pulse Monitor.
And in PvE it is an indispensable weapon – being one of the three stasis hand cannons in the game, it can be rolled with the Headstone and with a combination of Wellspring and Demolitionist perks, which is one of the most in-demand and rare for good weapons, as well as with Feeding Frenzy and Multikill Clip.
Good perk options:
Barrel: Smallbore, Fluted Barrel
Magazine: Ricochet Rounds
Perk One: Wellspring, Feeding Frenzy
Perk Two: Headstone (with Stasis subclasses), Demolitionist (with Wellspring), Multikill Clip
Masterwork: Stability or Handling
The Compass Rose shotgun, first introduced during the Solstice Event in Season of the Splicer, will please players this year with the brand new Basic Origin Trait called Dream Work and awesome new perks, and will be appreciated by all fans of Solar 3.0 builds. Like with all other Basic Origin Traits, Compass Rose will always drop with Dream Work.
Incandescent has become a major perk in numerous Solar 3.0 builds. Its main advantage is that it spreads the scorch to a certain radius after a kill, which makes it ideal for use in the Crucible in limited spaces.
The Compass Rose is basically a PvE weapon, but it can also work well in PvP with certain perks. Full Choke and Accurized Rounds will tighten the pellet spread and increase its range, and Quickdraw, Snapshot Sights, or Vorpal Weapon with active Supers in the Crucible is a great option.
Assault Mag and Barrel Shroud or Smallbore and Tactical Mag are great options for PvE, Lead From Gold or Incandescent are perfect for clearing up mobs in PvE, and Surplus or Vorpal Weapon is a nice roll to use Compass Rose as a DPS boss weapon.
You can only get this beauty during the Solstice until August 9, completing Bonfire Bash activities, but the chance of dropping out depends entirely on the RNG. To increase your chances after defeating Heat Drinker once Bonfire Bash is complete, be sure to interact with the fire to physically get the rewards as if they were obtained from the chest at the end of the hit.
---
So don't miss the Solstice event, enjoy its activities and rewards. And don't forget to rate our guide, if all this information was helpful for you.