Destiny 2's most popular PvP activity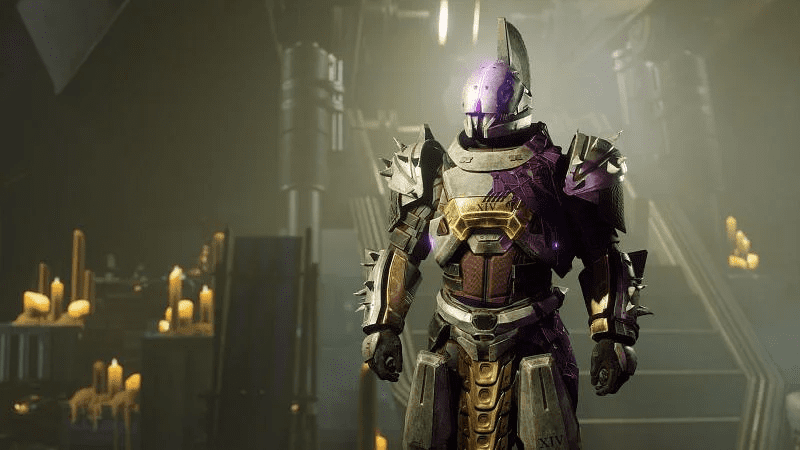 After a break of several weeks, Trials of Osiris finally kicked off last week and attracted more players than any other D2 activity ever, which was obviously Bungie's goal. The updated Trials of Osiris is more about Reputation than it is about fun kills. Rounds have gotten shorter, and now you can play until you get the desired reward.
As Bungie says:
"We want to make Trials more accessible, no matter your skill level or fireteam size.
We want to make Trials more rewarding, whether you're winning matches or earning reputation with Saint-14.
We want to make Trials more engaging, testing out changes to Elimination and reintroducing Labs to Destiny 2".
Season of the Lost Trials of Osiris – Schedule
As before, every Trials is a weekly activity, starting Friday at 10am PDT / 1pm EDT / 6pm BST and lasting until reset on Tuesday at the same time. Trials are run every week except Week 1or before Raid World First and during Iron Banner.
The updated Trials also boasts a change in gameplay. With the introduction of the anti-cheat and for security reasons, Trials will no longer be free for all players. Trials are now available only for those accounts that own the latest addition, Beyond Light.
Perhaps the most noticeable change is in the matchmaking system. It's no longer necessary to look for a team in advance and you can easily queue up and play alone in Solo Queue mode. Freelance Trials (No pre-made fireteams, solos only) will also be available via Labs. Matchmaking is based on your rank obtained this week and the number of wins on the card, which allows players of any level to feel more confident in Trials of Osiris. In the words of Bungie:
"We believe that card-based matching is very valuable and can add some significant drama at the right time, but it is best when all players participating have the same end goal, or have similar performance characteristics. Too often, "Flawless-or-Bust" players get mixed in with players that have different goals and skillset and that misalignment can cause problems"!
Season of the Lost Trials of Osiris – Rewards and Reputation
Unlike the old Trials of Osiris, the rewards are now based on Reputation instead of pure victory, but you can still get a special reward for a flawless, such as Reed's Regret (Adept linear fusion rifle). Trials of Osiris offers two types of weapons: standard and Adept. Adept versions have slots for additional mods that can only be applied to Adept weapons. Adept weapons also have a different default design that's flashier than the standard-issue version.
On Week 2 the Trials of Osiris map is Distant Shore and the rewards are:
Rank 4: Upgrade module (2)

Rank 7: Enhancement Prism (3)

Rank 10: Eye of Sol (sniper rifle)

Rank 13: Upgrade module (2)

Rank 16: Igneous Hammer (hand cannon)

Flawless: Reed's Regret Adept (

Stasis Linear Fusion Rifle, Precision Frame 533 Charge Time

)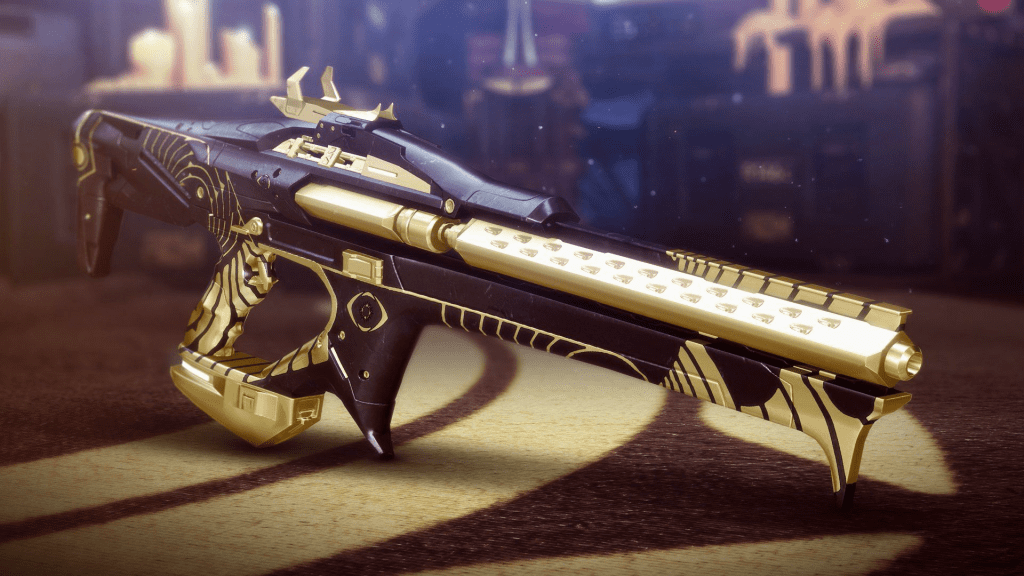 Season of the Lost Trials of Osiris – Gameplay changes
Round time is reduced to 90s (from 120s).

Emotes stay in first-person camera, and Swords can't be equipped unless you have ammo. (This change is in Elimination and Survival also).

If you run out of Sword ammo while using it, you will be force-swapped to a different weapon.

This removes the ability for players to secretly peek around corners without putting themselves in danger.

Special and Heavy ammo no longer carries over between rounds.
Let's take a closer look at the ranking system.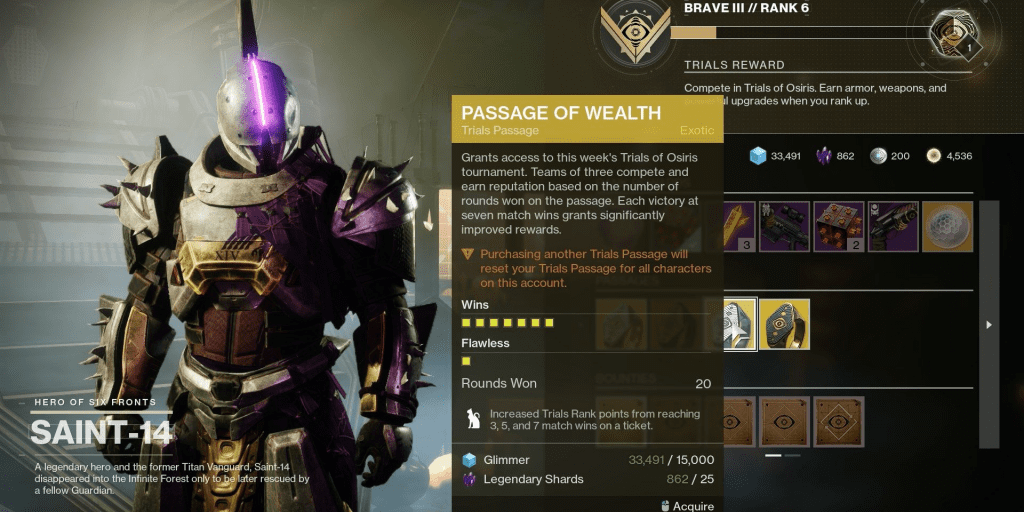 You access to Trials of Osiris by getting a Passage in the Tower at Saint-14.

The new system allows you to receive a reward even without passing flawlessly.

Passages no longer count losses – only whether you pass Flawless or not.

You can reset the Passage as before, and now you don't have to do it after 3 losses.

One Passage counts up to

20 rounds won

.

3/5/7 win challenges have been removed.

Уou can play and gain rewards on any character in the account on the same Passage.

The cost of Passages has been reduced (Mercy is now relevant only for Flawless).

Each Passage costs 10k Glimmer and 15 Legendary Shards, which is not much compared to the old 50k Glimmer, but still quite a lot if you're a New Light player.

Trials ranks and rewards reset each Season.

The Lighthouse experience isn't changing.

A unique pinnacle Adept weapon each week the first time you visit on your account.

Match wins

on a seven-win card have a chance to drop extra Trials engrams, Masterworking materials, and high-stat Trials armor.

All of the mods and cosmetics are available in the chest to reward return visits.
In addition to the usual rewards for completing a Passage or leveling up your rank, you can get pinnacle rewards for winning 7 matches in a weekend or for winning 50 rounds.
The Trials Engram
Ranking up

gives you a Trials engram.

Powerful Trials engrams show up every three rank ups before your first reset of the Season

Trials engrams now decrypt to a random selection from current armor and non-Adept weapons.

You do not need to unlock a piece of armor or weapon before it shows up in the engram.

You can Focus your engrams at Saint-14 to decrypt specific items that you have already received.

If you have gone Flawless that week, you CAN Focus additional drops of the weekly Adept weapon.

Once you max out the reputation, you can reset and claim an Ascendant Shard or Exotic engram.
As we can see, according to Bungie some changes should dramatically change the traditional idea of Trials of Osiris as a very challenging PvP game. However, heated debate has already erupted in the community of D2 players about the reasonableness of these changes. According to some players, the new matchmaking system does not simplify the task of single players, because well-played team, in their opinion, are always better than the occasional team players. Others believe that Trials isn't for "wimps" and those who can't pass them shouldn't even try, and Bungie, in its turn, should not condone this and break the existing order.
As for us, Overgear is always glad and ready to help you with any difficulties on the way to master the content and get the desired rewards.