Greetings, Guardians! Season of the Splicer has arrived at Destiny 2, and with lots of new content, it brought to us one of the most expected features — the Armor Synthesis (a.k.a. Transmogrification).
A transmogrification is a tool that allows you to change the appearance of your armor pieces to your taste, affecting none of its game functions like stats, mods, energy, etc.
It is not rare when you find a fantastic item in terms of effectiveness, but its visual appearance doesn't look good, so transmogrification is the answer. Ada-1, the curator of the Black Armory, has returned to the Tower with a new project — it is she who will become your guide to the world of fashion. But before you can start customizing your outfit, it is necessary to complete a short introduction quest and get familiar with the Armor Synthesis mechanics, which we will describe in a guide below.
Armor Synthesis Introduction Quest
Starting the quest
To pick up the quest, visit gunsmith Banshee-44 in the Tower. He will send you to Ada-1, which is in the Annex, exactly where she was before the Beyond Light.
Visiting Ada-1
Once you made your way to Ada's hub, pick up the next quest step from her. Ada will ask you to travel to Europa and recover the research data from the BrayTech Exoscience facility.
Traveling to Europa
Head to Europa and get to Cadmus Ridge, to the BrayTech Exoscience. Follow the markers and interact with two marked items. After that, you should return to Ada-1 in the Tower and discuss your findings with her.
Returning to Ada
When you bring what you found on Europa to Ada, she will ask you to finish her new project — the Loom prototype. Simply interact with it and speak to Ada-1 again to learn more about the finished technology and claim your reward, a package of 5 Synthweave for each class.
Synthweave is a new material that allows you to create a permanent universal ornament (that can be used an infinite number of times) of any non-exotic item from your collection through a special interface that you can find by opening the appearance subscreen from your character screen and clicking on the appearance customization button.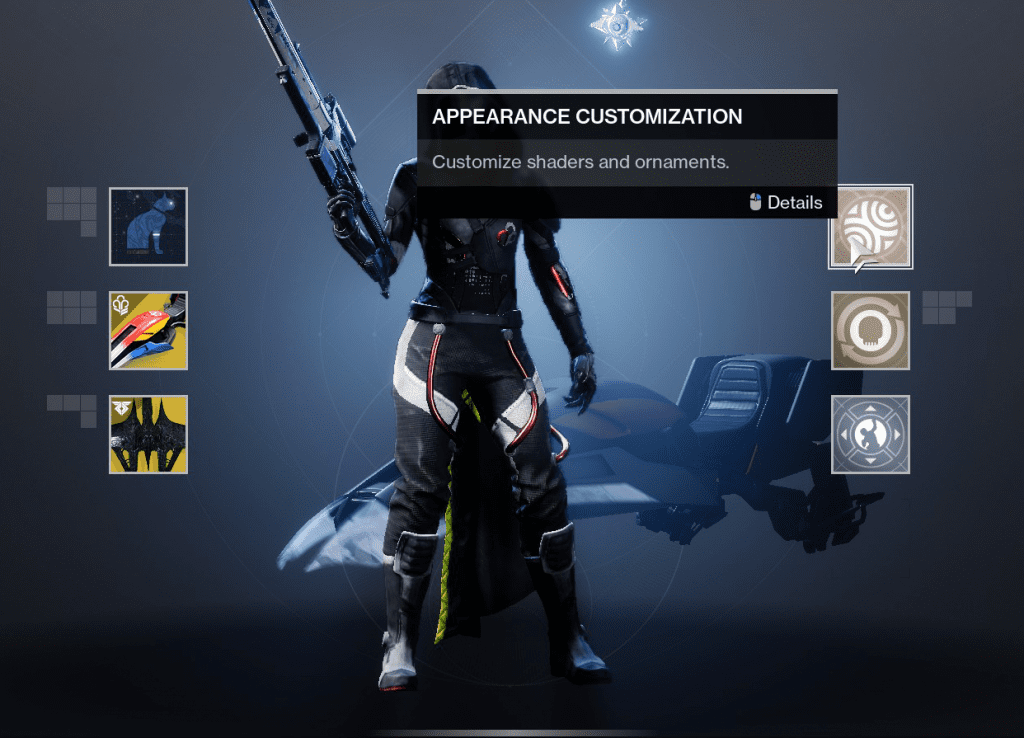 There you can find and try on any combination of items and shaders from your collection and find the best look for your Guardian. But remember, you spend one Synthweave for one universal ornament.
Tying it all together
After you complete the Armor Synthesis introduction quest, you will be able to start a new questline from Ada-1 that will teach you how to get more Synthweave to create more universal ornaments. Ada will provide you with another new material — Synthstrand. For Synthstrand you can purchase bounties from Ada-1, for completing the bounty you will earn 100 Armor Synthesis Materials, exactly the number needed to create one Synthweave. To craft a Synthweave interact with the Loom (it is still right behind the Ada-1).
After you did the first bounty, you have to find more Synthstrand by yourself. It drops from the enemies of Humanity with a low chance directly to your inventory, so you will get Synthstrand by playing the game. Also, you can get another package of 5 Synthweave by completing the first part of the seasonal story quest. Check your inventory sometimes and return to Ada, when you get enough materials to purchase a bounty. Important to note, that you can do only 10 bounties per season for a character, but it is not enough for you, you can purchase Synthweave for Silver in Eververse.
Choose with heart, Guardian, good luck!