Welcome, Call of Duty enthusiasts, to our comprehensive guide on Ranked Play in CoD: Modern Warfare 2! Brought to you by the dedicated team at Overgear. Here we will walk you through the ins and outs of Ranked Play.
Gear up and prepare to dive into the world of competitive play with our insightful analysis on the current meta, best loadouts, and the latest Season 3 rewards. Let's get started!
What is Ranked Play in CoD:MW2?
Ranked Play is a new 4v4 game mode that was introduced in the Season 2 update on February 15. This mode uses all the restrictions, maps and rules of CDL (Call of Duty League).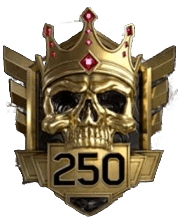 How to Unlock Ranked Play?
First of all, you need to buy Call of Duty Modern Warfare II if you haven't done it already. Then, level-up to the in-game level 16. In case you have a question about how to level-up your account fast, here is a quick guide:
All you need to do is to play Kill Confirmed or Shipment game mode with the next loadout and loot tons of XP while enjoying the game!
As a primary slot, pick a good AR or SMG. You can check them in the list below;

Secondary, take a Riot shield, so no one could shot you in the back;

Our choice in tactical and lethal slots are decoy grenade and drill charge as they are the most XP-rewarding among other equipment of the same classes;

Base perks are Extra Tactical and Overkill, so we could get more decoys and carry a shield as a secondary weapon;

Bonus perk is Resupply because we want more drill charges if we stay alive for a long time;

Overclock as an ultimate perk is our choice because it helps us to get a Field Upgrade much faster;

Field upgrades should be the Trophy System and DDOS because they are the most XP-rewarding;

As killstreaks, pick the UAV, Counter UAV and Advanced UAV as they give us more XP than the others.
Now you are able to play the most skill-demanding mode in the game!
MW 2 Ranked Play Tips & Tricks
PRO players shared with us lots of tips to help you win gunfights and duels, so you could progress fast and be on crazy winstreaks!
| | |
| --- | --- |
| Deaths are benefits! | Use your mistakes to learn dangerous corners and other places of the map, so next time you use them as your advantage. |
| Callouts can wait | Analyze the situation fully, and only after that you can tell your teammates information where the enemy is. Suppression of emotions is your best friend! |
| Take a good position setup | Well, in case you don't know the map well, check where your teammates are located and use the position to cover their backs while watching a potential enemy ways of coming. |
| Do not be static! | Imagine how hard it is to shoot at the person while you can't normally take aim at him! Move while capturing the objective, move while shooting, move while receiving damage, it will save your life more than once! |
| Improve your loadout! | Check out our best meta loadouts to dominate your opponents easily! |
Warzone 2.0 Ranked Best Loadouts
Also, Warzone 2 Ranked play is coming soon! We decided to prepare you for it, and here are complete loadouts for annihilating enemies in the battle royale!
We recommend you to use these perks with any of the guns below
Also, heartbeat sensor as tactical and a throwing knife as lethal are quite universal, so we recommend them, but you are free to use any option you like. For example, there is another good variation of tactical + lethal devices: Stim + Drill Charge
How Does Ranked Play Work in MW2?
There are only three game modes in CoD: MW2 Ranked Play, which are greatly balanced, made for teams and not solo players, so you are able to hone a skill of communicating with your teammates. Let's check all of them:
Hardpoint – Two teams must capture and secure the 'hardpoint' from each other;

Search & Destroy – One of the teams acquires the bomb and rushes to plant it on one of the sites: A or B, while other team must secure the objectives;

Control – While both teams can simply win by eliminating the other team, the two capture zones are the main objective for both of them. Defenders must hold on to both zones until the timer runs out
All of the matches will take place on the following maps:
Hardpoint mode

Search & Destroy mode

Control mode

Al Bagra Fortress;
Breenbergh Hotel;
Embassy;
Mercado Las Almas;


Zarqwa Hydroelectric.

Al Bagra Fortress;
Breenbergh Hotel;
El Asilo;
Embassy;


Mercado Las Almas.

Al Bagra Fortress;
Breenbergh Hotel;
El Asilo.
Restricted Items in the Ranked Play
MW 2 Ranked Progression
Playing matches will give you some amount of SR (Skill Rating), which will assign you to one of the Skill Divisions

| | |
| --- | --- |
| Division | Skill Rating |
| Bronze | 0-899 |
| Silver | 900-2099 |
| Gold | 2100-3599 |
| Platinum | 3600-5399 |
| Diamond | 5400-7499 |
| Crimson | 7500-9999 |
| Iridescent | 10000+ |
| Top 250 | Only the best 250 players with a Skill Rating more than 10,000 |
Skill Divisions reset every new season. For example, if you had a Platinum rank, in the new season you will be Gold rank. Also, for winning in Ranked Play, you will boost your Rank. It starts from 1 and goes towards the 50. Unlike Skill Divisions, Ranks don't reset every season!
MW 2 Season 3 Rewards
All of the rewards can be used in the whole Call of Duty: Modern Warfare II, including the Warzone 2.0!
MW 2 Current Meta
One of the vital parts of Ranked Play is your loadout. In Ranked matchmaking, you will destroy your enemies in 0.3-0.4 seconds, so you need to pay the most attention to your primary gun. Here are 3 loadouts that will help you dominating on the battle fields: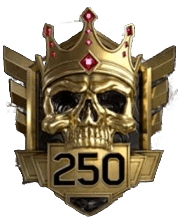 That's everything any player needs to know to play and be successful in Call of Duty: Modern Warfare II Ranked Play. We hope this guide was helpful for you. If so, we would be happy if you rate us!