New World Amrine Excavation Expedition
Buy Amrine Excavation Boost in New World to find great new gear, level up your character, boost Weapon Masteries! Just chill and enjoy your loot from Amrine Expedition.
Amrine Excavation expedition can be completed by a 5-man party of 23+ lvl characters. And it's a pretty hard activity to close. You should find a strong team, know strategies and tactics to close it fast and don't waste your time. Our professional players are ready to carry and boost you through any Expedition right now!
Note: Please, turn off the Steam Remote Play function to avoid any difficulties during the execution of the order.
WHAT YOU WILL GET
the desired amount of Amrine Excavation expedition runs;

~500+ Weapon Mastery points for each run;

additional experience, coins, and loot;

chance to get Tier III gear

(370 Gear Score)

.
OPTIONS
As an additional option, we can find a Tune Orb for this Dungeon.
START AND COMPLETION TIME
your order will be started in the first 6 hours after the purchase;

completion time is about 3 hours for one Expedition run.
REQUIREMENTS
New World account with the

23 level character

on the desired server;

x1 

Amrine Tuning Orb

for each run.
HOW IT WORKS: PILOTED
select preferred options, your region, and place an order;

we will contact you via our live chat or by sending an email;

all the details will be discussed beforehand and the start time will be set according to your schedule;

we'll find you an experienced booster who fits in your schedule the best;

for your convenience, we will create a Discord chat where you can communicate with your manager and track order progress;

at the appointed time, our professional player will boost you;

enjoy the results! And don't forget to rate our services on

Trustpilot

.
If you still have some questions or want some unusual options — feel free to text us! Even at 3:00 AM :) We're 24/7 online!
FEATURES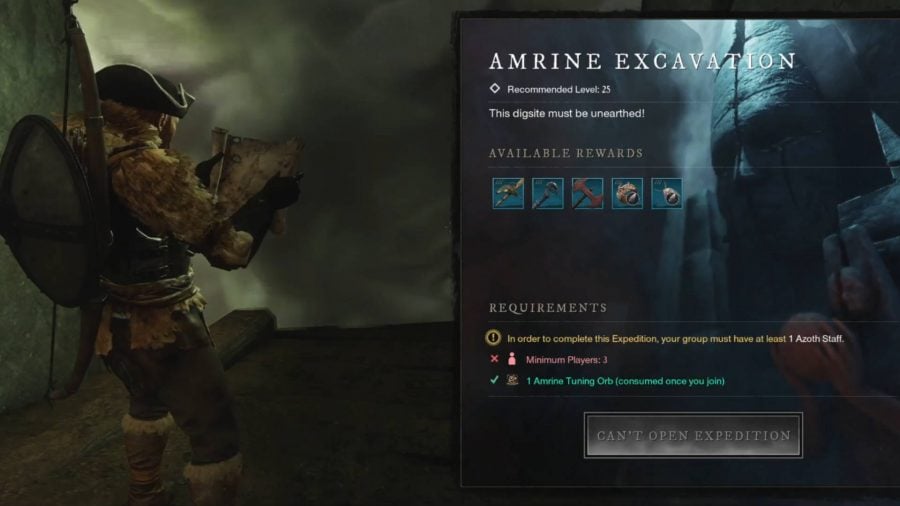 F.A.Q.
Where is Amrine Excavation?
The Amrine Excavation is a dig site just west of Amrine Temple, where famed archeologist Simon Grey and his team have been missing for some time. It's up to the players to venture into the depths of this troubled dig site to uncover their fate and discover what happened with the Ancient technology they unearthed.
How long does Amrine take?
If you're under-leveled, you can expect this Expedition to take at least an hour, depending on how smoothly the boss goes. If you're on level, this can be done in 30-40 minutes.
Foreman Nakashima
Foreman Nakashima is the first boss of the Amrine Excavation and represents itself as a ghost of the deceased Foreman of an excavation team with 26 level. Foreman Nakashima will appear right after you place the Hallowed Candle on the Spectral Shrine. So you may get prepared before placing it, heal, replenish mana and stamina, get your gear ready, mind that Nakashima is Ice Resistant. Foreman Nakashima can be found at Star Shrine during Amrine Excavation Expedition. Foreman Nakashima is a Level 26 Boss. If you defeat Foreman Nakashima you will be instantly rewarded with 84.00 Coins,  2100 XP and 210 Weapon Mastery.
Simon Grey
Simon Grey is the final Boss of the Amrine Excavation Expedition and it's required to defeat him to complete it. Simon can be found at the Obelisk Cavern. He can be seen from very far due to his size even though he is far. If you defeat Simon Grey you will be instantly rewarded with 84.00 Coins, 2100 XP, 210 Weapon Mastery.