Spare Rations
Gambit Prime has a lot of good weapons and Spare Rations is one of the best as for PvE as for PvP. If you want to have a curated or a god roll for Spare Rations it might take a lot of time. Overgear allows you to buy Spare Rations farm and obtain it in a no time!
How it works?
Contact us in live chat, ask any questions and place an order
Your carry starts. Play yourself or let our boosters do the job
Confirm order delivery and leave a feedback. The booster gets paid only now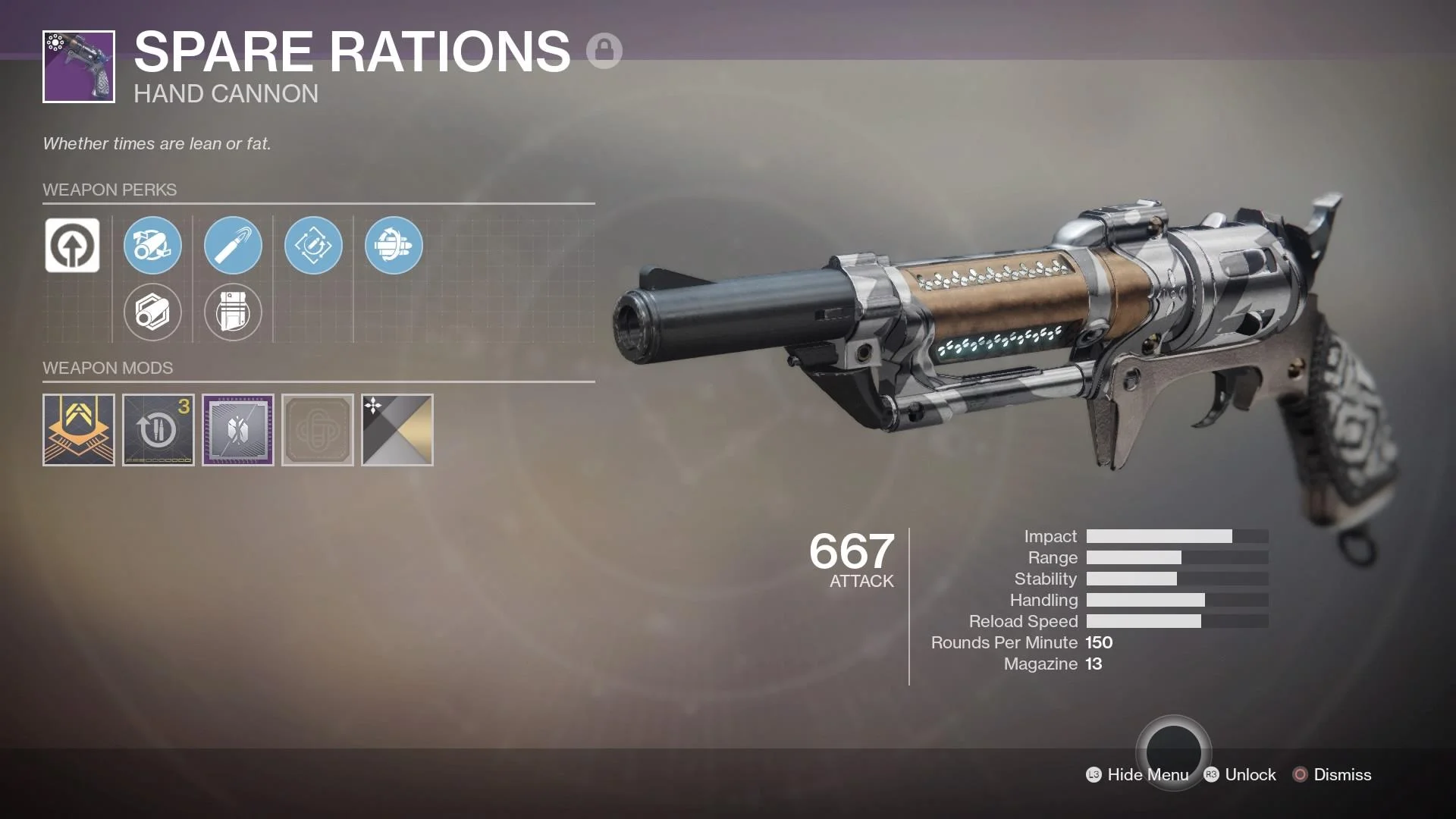 Why Overgear?
100% LOWEST PRICE
We're checking with the Market Prices every day to provide you the best offer
MONEY PROTECTION
Your payment goes to the booster only when you confirm the service completion and leave your feedback
MAXIMUM SPEED
Saving your time is our priority. We're going fast and always ready to start on short notice
24/7 SUPPORT
Our manager will answer all your questions and will be available at any moment
BOOSTER SCORING
All players pass an interview to confirm their skills and verify their passport ID
QUALITY CONTROL
No one will ever work on Overgear with cheats or bots. No exceptions!
LATEST TRUSTPILOT REVIEWS
Let's take a closer look at Spare Rations perks. For the first slot there are: Rapid Hit, Fourth Time's The Charm, Snapshot Sights, Subsistence, Threat Detector, Field Prep and auto-loading Holster. For the second they are: Kill Clip, Rampage, Multikill Clip, Slideshot, Rangefinder, Moving Target, Swashbuckler and Hip-fire Grip. As you can see there too much variants of perks are possible. So it won't be easy to get good enough roll, probably it is better to have more than one Spare Rations for different game aspects: for PvP and PvE, or even mixed combo as for gambit. 
Gambit has an elite playlist - Gambit Prime and all weapons with rng drop from The Drifter are here. This is Spare Rations story. Gambit prime is the only source of Spare Rations. Imagine how much time you should put on each Gambit Prime match until you get the curated roll? Or a god roll? Well, there is an option with Overgear. Let us put our time into Gambit prime matches for obtaining the Spare Rations with good perks, instead of you will waste your own. Get your Spare Rations in a shortest time with Overgear services. We are experienced at D2 like in any other game. Buy Spare Rations farm and let you enemies die fast.