REDRIX'S BROADSWORD LEGENDARY PULSE RIFLE
Redeix's Broadsword Legendary Pulse Rifle is a weapon for the first slot and it deals kinetic damage. Perks are High-impact frame and Desperado. High-impact Frame: Slow-firing and high-damage. This weapon is more accurate when stationary and aiming down sights. Desperado: Reloading while Outlaw is active increases your rate of fire. Buy Redeix's Broadsword Legendary Pulse Rifle at Overgear by the lowest price!
How it works?
Contact us in live chat, ask any questions and place an order
Your carry starts. Play yourself or let our boosters do the job
Confirm order delivery and leave a feedback. The booster gets paid only now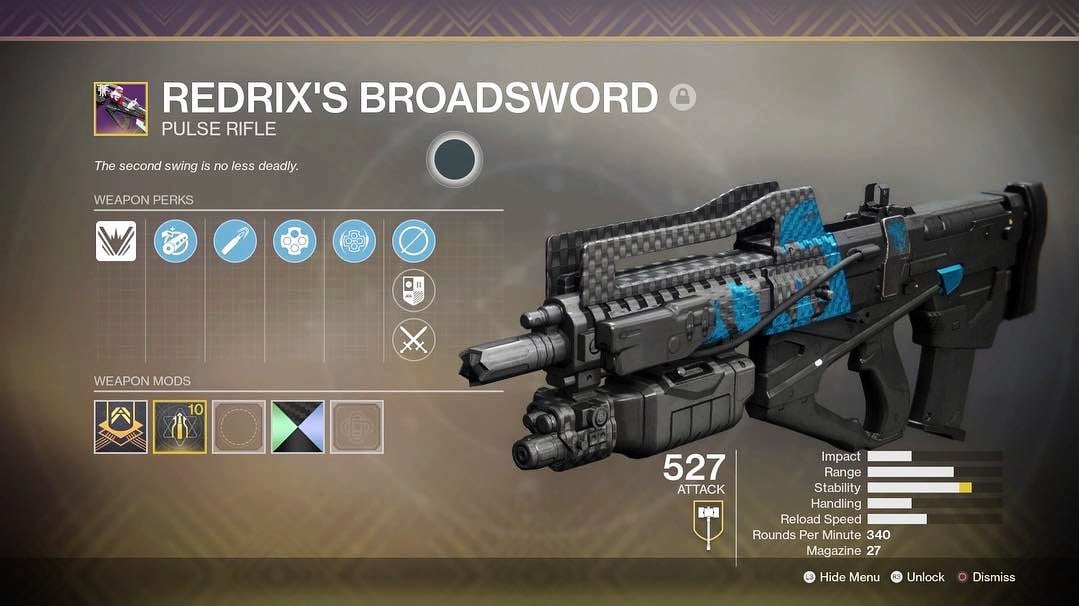 Why Overgear?
100% LOWEST PRICE
We're checking with the Market Prices every day to provide you the best offer
MONEY PROTECTION
Your payment goes to the booster only when you confirm the service completion and leave your feedback
MAXIMUM SPEED
Saving your time is our priority. We're going fast and always ready to start on short notice
24/7 SUPPORT
Our manager will answer all your questions and will be available at any moment
BOOSTER SCORING
All players pass an interview to confirm their skills and verify their passport ID
QUALITY CONTROL
No one will ever work on Overgear with cheats or bots. No exceptions!
LATEST TRUSTPILOT REVIEWS
Redeix's Broadsword Legendary Pulse Rifle isn't very difficult to get, but it takes a lot of time. Here the list what should be done. Take Quest from Lord Shaxx. Defeat 200 opponents with Pulse Rifle final blows at Crucible. Reach Valor Rank Heroic. Then earn 75 double plays in Crucible. Then get 150 precision kills with any Pulse Rifle in Crucible. Now you should get 50 final blows in Crucible with each type of damage: 50 with Arc, 50 with Solar and 50 with Void. After that step you should play Crucible matches: 25 in quickplay, 25 in competitive and 25 in Ruble. Complete 20 bounties from Lord Shaxx. Reset your Valor rank 5 times during one season. And here you are - head back to Lord Shaxx and claim your Redeix's Broadsword Legendary Pulse Rifle. Very long way. isn't it? That is why Overger provides such services as boosting for Redeix's Broadsword. We've got the lowest prices on the market for any D2 offers. Get you Redeix's Broadsword in a no time!