XENOPHAGE EXOTIC MACHINE GUN
Xenophage Exotic Machine Gun is a heavy weapon that deals Solar damage. And as any exotic weapon, Xenophage has unique perks. Pyrotoxin Rounds: fires high-powered explosive ammunition. And Rangefinder: aiming this weapon increases its effective range and zoom magnification. Increased projectile velocity while aiming Rocket Launchers and Grenade Launchers. This machine gun has only 13 bullets in the magazine, so imagine what damage does a single bullet with these perks. It will be amazing if you can land these shots in critical zones. If you are aiming for cool heavy weapon buy Xenophage Exotic Machine Gun at Overgear. We provide a lot of services at D2 and boosting for Exotic weapons is our favorite!
How it works?
Contact us in live chat, ask any questions and place an order
Your carry starts. Play yourself or let our boosters do the job
Confirm order delivery and leave a feedback. The booster gets paid only now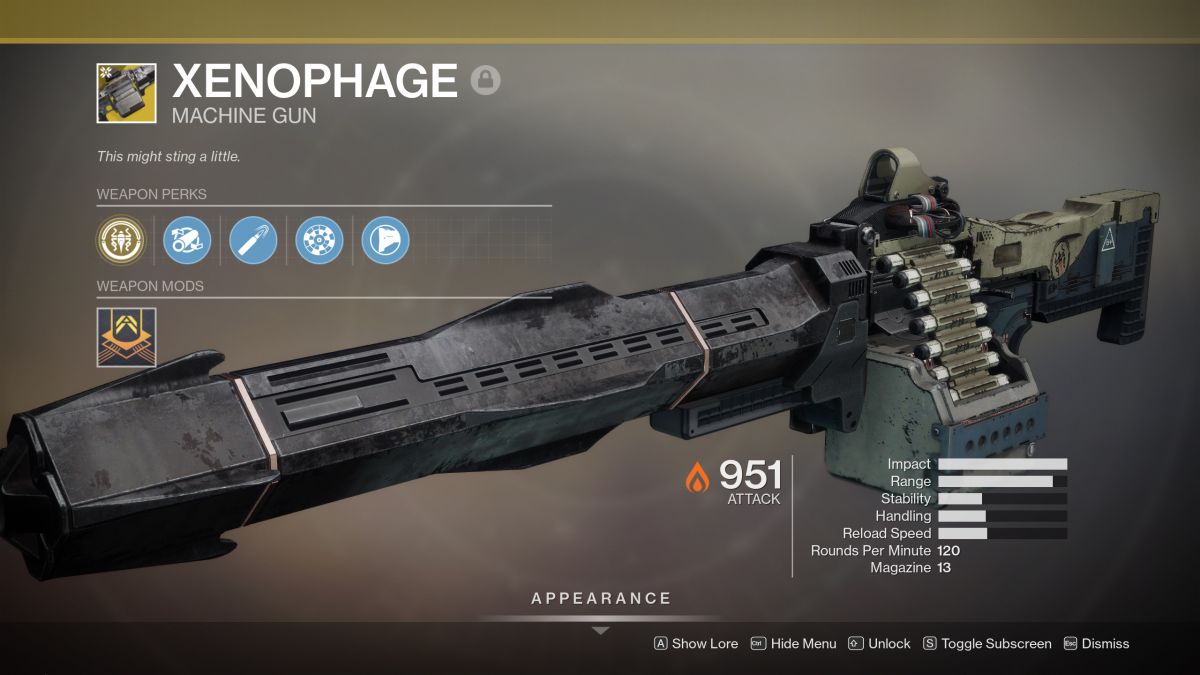 Why Overgear?
100% LOWEST PRICE
We're checking with the Market Prices every day to provide you the best offer
MONEY PROTECTION
Your payment goes to the booster only when you confirm the service completion and leave your feedback
MAXIMUM SPEED
Saving your time is our priority. We're going fast and always ready to start on short notice
24/7 SUPPORT
Our manager will answer all your questions and will be available at any moment
BOOSTER SCORING
All players pass an interview to confirm their skills and verify their passport ID
QUALITY CONTROL
No one will ever work on Overgear with cheats or bots. No exceptions!
LATEST TRUSTPILOT REVIEWS
You already know about Xenophage perks, but how to claim it? All we know right now, that this weapon will be obtainable soon and the only info we've got right now, that it will be a reward for a quest in Shadowkeep expansion and part of it will be in a new Dungeon at the Moon. Previously information about Leviathan's Breath has slipped to the net, but Xenophage is a tough guy and will keep its secrets until it is released in-game.