Whisper of the Worm Exotic Sniper Rifle
Meet one of the most legendary weapons of Destiny 1 & Destiny 2 - The Black Spindel in Destiny 1, aka Whisper of the Worm in Destiny 2. This exotic heavy sniper rifle is extremely powerful against bosses and is the most common pick for DPS phases. Even after all the nerfs it received, and even without the catalyst, Whisper is still the best sniper rifle in the whole game for DPS, leaving Izanagi, D.A.R.C.I., and all legendry snipers far behind. You simply have to get it to your collection since it will be gone soon! Unfortunately, you won't be able to complete the catalyst for it - the whole Io planet will disappear with the release of Beyond Light. There's just not enough time for it since this catalyst is reset-locked.
You will get:
Whisper of the Worm Exotic Heavy Sniper Rifle

The Whisper mission completed

All additional gear and resources that will drop during the completion
Available options:
Selfplay - play yourself, have fun - we'll carry you

Piloted - our booster will drive your character
ETA: 
Start within 30 minutes

Lead Time: ~1 hour


How it works?
Contact us in live chat, ask any questions and place an order
Selfplay: at the appointed time you will be invited to a fireteam
Piloted: Booster will establish a VPN of your location during the usage of your account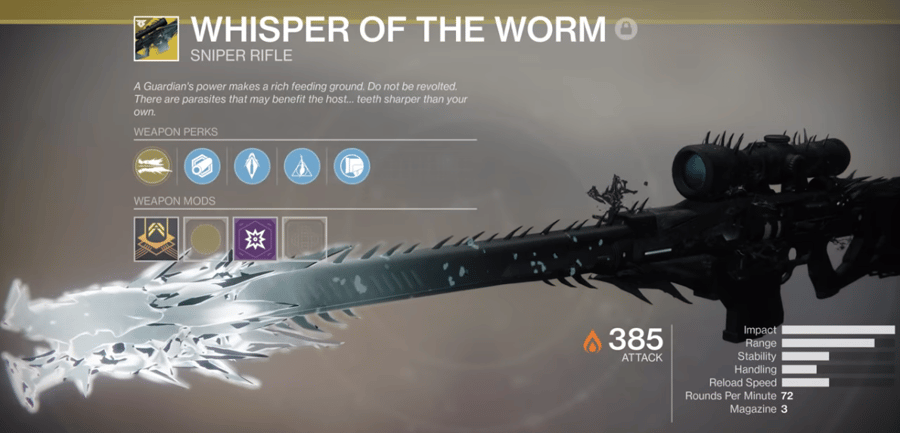 Well, in season 3 claiming this weapon was a hell of a ride. Imagine that nobody knew how to get this weapon. There were only some clues of Whisper of The Worm's existence. Now read and try to realize how difficult it was to find this quest. First of all, it is possible only from Friday to Monday: there is a special activity that can spawn at Io's Taken Blight public event. It can take ~1 hour of waiting. When it finally appears at Io, a hidden boss spawns. He is a tough guy, but not impossible to kill. Once you finish him, a portal to The Whisper spawns in the upper left part of the map. Now you get the idea of how difficult it was to find this trigger? But the fun is just about to start. After going through the portal you have only 20 minutes to complete this scenario. This is a very dangerous place and it is easy to waste time in the labyrinth or die on the very long platformer with traps. That's why Overgear is ready to assist you with claiming the best Exotic Sniper Rifle - Whisper of the Worm. We provide lots of boosting services in Destiny 2, and we are in love with quests for Exotic weapons such as Whisper of The Worm.